VOU-ME EMBORA PARA PARSÁGADA

Collection of artworks inspired in my current experiences with farming and volunteering across the United Kingdom.
Eu sou a musa (I am the muse)
| 2021 | gouache and acrylic on paper | 27.5 x 22.5 cm | available
Arrogante (Arrogant)
| 2021 | acrylic and watercolour on canvas | 34 x 21 cm | available
Part of a series of self-portraits inspired by some of mine, somewhat, problematic personal traits that for so many years I denied to acknowledge. I am exposing them now as a means to embrace all parts of myself, the light and the shadows and examine my behaviours and interaction with the world around me.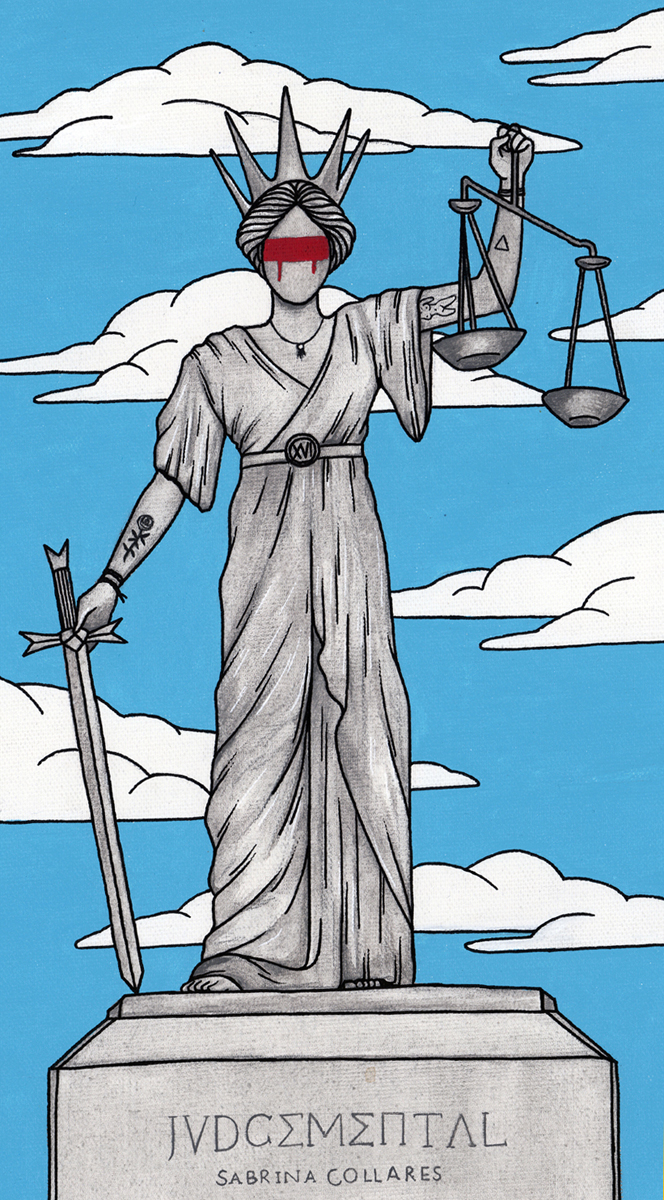 Judgemental
| 2021 | acrylic and watercolour on canvas | 35 x 20 cm | available
This painting is inspired by the sculpture of Themis, outside the former Law Courts in Brisbane, Australia. This work reflects one of my most feared things in the world - being judged. I have realised over the years that this unconscious fear of being analysed and measured by other people is rooted in my childhood. I grew up being compared to my siblings and sadly I cannot say I was ever 'winning' in this competition.
To avoid feeling this way, I developed a necessity to people-please and also to strive for perfection at all times as a means to avoid negative comments about myself. I have put a lot of pressure on myself and others around me, and I am sure I made a lot of people in my life feel 'they were disappointing me' for not being able to meet my unrealistic expectations. Another characteristic of people who fear being judged is being extremely judgmental themselves. The realisation that those thoughts come into our mind, is a great generator of anxiety and also leads to the misconception that 'others might be doing the same to us'.
Being judgmental comes from a deep lack of self-love and self-worth. Some studies have linked biased behaviour to lack of self-esteem, meaning, it becomes very difficult to understand other's humanity when we are out of touch with our own. Furthermore, according to sociologist Ervin Goffman, for example, stereotypes are related to social stigma in the process of construction of meaning through interaction. Therefore, society institutes how people should be, and makes this appear to be a natural conclusion.
In a sociological perspective, the idea of prejudice refers to a concept formed before of prior knowing the facts, using characteristics judged universal, to attribute value to all those who fit into them, leading to a misinformed conclusion about others in society. In this perspective, we can consider that prejudice is inserted in all circles of human interaction, being an 'artifice' used in conviviality and in the moments when we face the unfamiliar, the unknown or the different. Based upon our individual understanding, it ends up informing us how to situate ourselves in certain situations with other people.
We can say that the more we understand ourselves, our humanity and how our identity is inherited and also produced by our social relations, the more likely we are to be open-minded, respectful and caring for others and ourselves. It is an act of love to be understanding of our flaws and mistakes, to not beat ourselves up for 'not having been perfect'. At the same time having the humility to know that we learn from everything in our lives.
Understanding that feelings of judgement and fear of comparison with others are a product of our egos is crucial. Being judgmental will lead us to end up not knowing or giving opportunities to others, depriving ourselves of a great benefit: Learning and sharing ideas with other people.
Corona in Brazil
| 2021 | mixed media on canvas | 27 x 19.5 cm | available
Corona in the United Kingdom
| 2021 | mixed media on canvas 27 x 19.5 cm | available
The painting on the left is inspired by The Imperial Crown of Brazil, also known as the Crown of Dom Pedro II who was the last emperor of Brazil. This satyrical work makes a relationship between the deadly dissemination of Coronavirus in the world and the equally mortal spread of the Iberia culture and ideology in Brazil during the 16th century. The word Corona means 'crown' in Latin.
The painting on the right is inspired by the St Edward's Crown, and again makes a relationship between the dissemination of Coronavirus in the world, and in this case, the invasion of the United Kingdom in India at the end of the 16th century. There are many misleading perceptions regarding the true impact of the colonization of India.
For example, the famous story involving the Koh-i-Noor diamond, set in the middle of the front cross of a crown used by the Queen Mother up until her death in 2002. For many Indians, the Koh-i-Noor is a symbol of colonial subjugation and three centuries of exploitation that began with the East India Company and ended with the independence, and partition, of India in 1947. The Indian government wanted the return of this historic stone that was either a gift to Queen Victoria or stolen by the British, depending on divergent perspectives.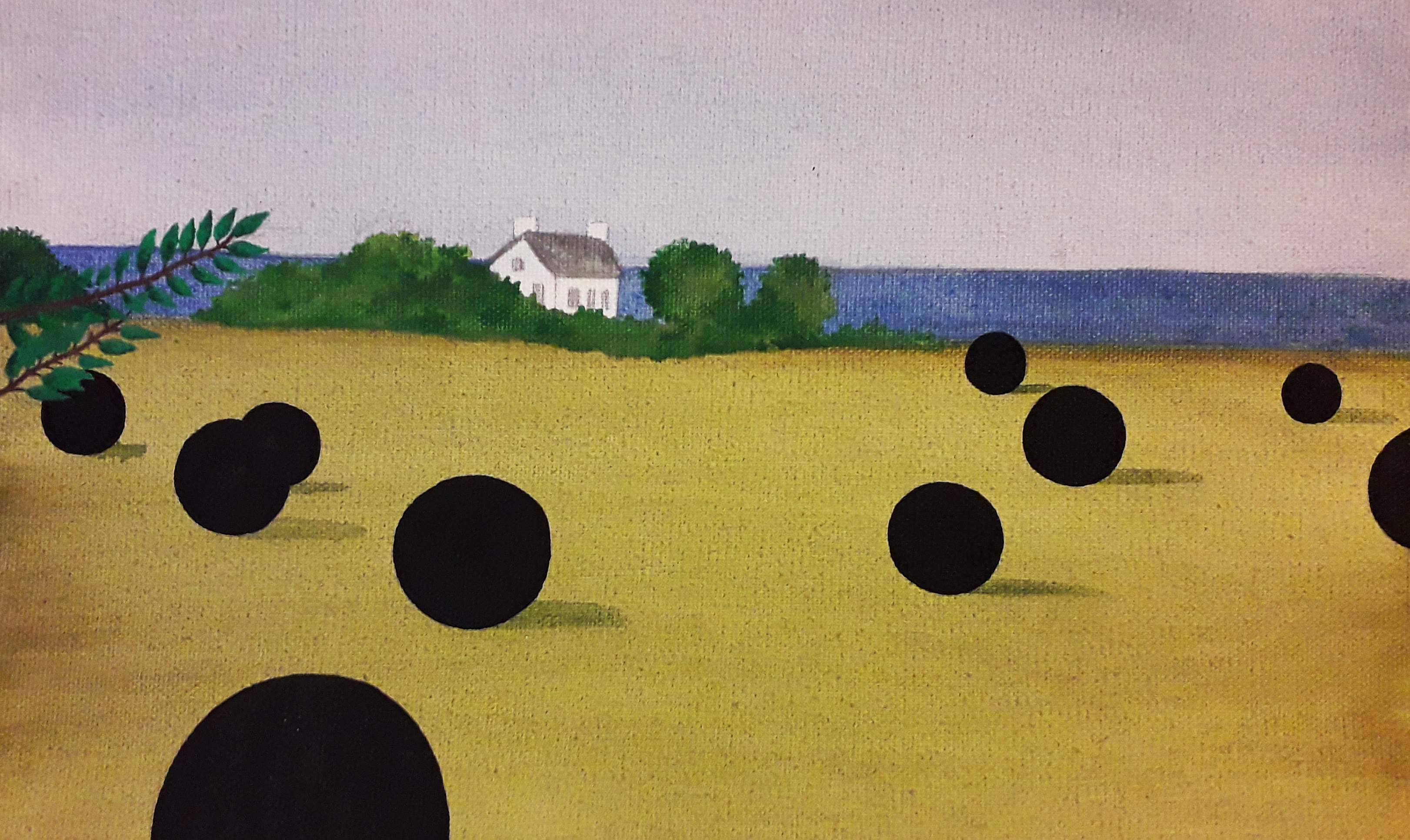 Anunciação (Annunciation) | 2020 | mixed media on canvas | 20 x 35 cm | sold
This painting is very important to me as this was the first painting I made after moving out from London and it was gifted to my hosts at the farm I stayed. The image depicts a scene I often saw when walking towards New Quays beach from that first farm I went to volunteer at. The image of a green grass field covered in round hay bales wrapped in black plastic, to me, is something that almost resembles a sci-fi movie. The greenery is abruptly invaded by those enormous black plastic rolls, and from a certain distance and angle, they looked like perfect spheres. The name of the painting is derived from the "announcement" of the Lord's incarnation to the Blessed Virgin Mary, as narrated in Luke's Gospel.
The Solemnity of the Annunciation is a very important day for the Church; it marks the free acceptance of God's plan by the Blessed Virgin Mary. It is the day on which "the Word became flesh", making his home in Mary's womb. It is also a preview of Christmas, which occurs exactly nine months later. On 25 March, the Catholic Church celebrates the solemnity known as the "Annunciation of the Lord". I enjoyed seeing those huge shiny circles as spaceships falling from the sky as if their appearance on Earth was the foreshadowing of something that is yet to come.
︎
PINDORAMA EXISTE E RESISTE. All rights reserved to Sabrina Collares, 2021.