17 August 2021
Churchstanton, Somerset
It has been so many days now but today I don't feel empty. Today I hopefully released him, or he released me. It is hard to write again. I have been so sad, I have been crying just too much. I have been crying for the child I will never bear and it is an unbearable pain to know I wish I would become a mother. But I was too hurt as a child to think this could ever become true.
Today I cried so much, it made me exhausted. I put a mirror in front of me because I want to watch him cry. He is in so much pain, he keeps remembering about the child who was so unwanted by the mom, so unwanted by the dad. So invisible, neglected, violated, physically, emotionally, psychologically violated that now has grown up to be not worthy of anything.
Because he was never loved, now he doesn't know how to love.
This day was not a good day. I got so claustrophobic inside my own skin that I had to run away, I am so very exhausted of forever trying to escape her, him... this. They always catch me by my feet and drag me back home along the road. Today, I went out walking and there is not a lot of space for me to walk so I am almost in the middle of the road. I wasn't walking, I was being pushed by a force, I was leaning forward, I think I was flying and all I wish was to lay by the sidewalk like a dog that had just been dumped because it was run over.
I tried to get run over. But they knew that I wanted that too. The cars were moving slowly as they could see me stumbling like a drunk man. But I was sober. I have been sober for a while now. They knew by my dance what I was trying to achieve... the cars driving towards me looked at me with pity. They looked horrified by the way I look, how much I was crying.
I was again crying so loudly, so profoundly, intensely from a pain that for sure is not only mine. A pain that has been given to me by my parents, and their parents, time after time. And now lives within my bones, it has made a home inside my heart. A pain so not mine that I don't know how to cure it. God knows I am trying but yet I am failing.
The only thing I can do to appease it is to let the ones who came before me and use my body to feel, cry rivers over their sorrows. We dance together in desperation and I hold my own hand because I have no other hands to hold. I have been sober for a while now.
I am
psychographing
this now and I am not even sure how many hands are helping me create. It has been days, weeks since I painted. My creativity is hiding away, we have nothing to celebrate. We have nothing to liberate, we have nothing.
07 August 2021
Churchstanton, Somerset
I feel totally empty and alone... It was supposed to feel good but it just feels tragic.
I can't even write anymore. I am just completely lost inside my head.
20 July 2021
Churchstanton, Somerset
I told you that I am very good at learning from things. But this is the same old lesson that I never learn from. I did ask life to stop sending those along as I have realised by now I am not capable of learning from this teacher. I simply can't understand what this is trying to show me. I wonder if they think I am not very clever and it saddens me to imagine they do. I desperately try to tell them that I have learnt so much in the last decades, and I am willing to come back again to try and learn this another time. They don't move a muscle and show no mercy despite my great efforts to excuse myself from this pointless task. There's no escape.
My god, I am about to fail this test again... What are they gonna say this time? It makes me sick to my stomach to imagine they are gonna laugh at me once more. I can't stop shaking. Couldn't you have helped me this time? Goddammit! For now what I can do is cast a spell so you will vanish, but not from the face of the earth... just from my mind. I am looking around and it seems like there's just not enough candles to do the trick this time. I don't think this is gonna work...
Exu, please take him with you and show him the way out! I promise you that later on we will drink together to celebrate, just you and I, as it has always been. We can wait until it gets dark just how we like it. We can drown ourselves in alcohol and run across those fields together, and wake up the next morning regretting all we've done the previous night. Same old, same old. We both know you are the one who's keeping my gates open, but I don't want them to come in anymore! I see what you trying to do here but it is enough now.
Tonight I just want to be you and I. As every time you come upon me when they are around they act like little children about to pee their pants. It is a bit funny to watch I must say, and we both laugh of them discreetly and with disdain, but only when they are not watching. We are not that mean. They are simply not able to take it. They cannot handle our power, especially when we come together.
Regrettably, they will never understand us. But they are gonna have to if they want to be around us because we were born together, conjoined and you are always here as you will be there to see when I close my eyes for the last time. You are truly the one for me. And when I come back to this earth you will birth me again and be my mother, my father, my son and the only true love of mine. You simply mean everything to me.
Nevertheless, we both know that I love being in love and every time my heart is empty I beg you to send me another one so I can love again. But we also know that when I am broken heart is when the genie comes to play. My genie loves to sulk in my misery and every time it smells the cortisol it comes with equestrian force towards me, marching proudly, ready to cross me. It wants to penetrate me so deeply, just cut me in half, like I already feel most of the times. Divided. And similarly to Gaia's myth, I wish I could plot against the genie and have him castrated. He deserves it for sure and so did Uranus, as they are both terrible men.
Sometimes I feel like the world is gonna fall off from between my legs. Does anyone know what I mean? Why do I feel parted like this? I feel like the void that existed above the Earth before it got separated from its primal unity with the Sky. All I know is that something doesn't feel quite right. Please call an ambulance, and tell them that I desperately need some help. Get me some sutures, let's stitch this up. I cross my legs tightly and consciously because I am inclined to believe that I am more protected this way, perhaps it will make the wound heal quicker. I keep feeling this pressure and I don't know what to do anymore. Please help me.
At times I can feel the scar tissue forming and in awe and relief I say out loud 'Oh, it is almost over now.', but then in a self-destruction pattern and a longing desire to annihilate my host, I open myself so the world can come out and they can come in. They cut me in half all over again. And at that moment it feels good, I feel the whole world trembling. Flowers are blossoming, rivers are flowing, geysers, waterfalls, earthquakes and all sorts of natural events rushing through my being. I am the whole Universe being born from the Big Bang and all because I have allowed it to flow freely.
But most of the time the damage they make to the surface is not worth the trouble.
I wish I hadn't allowed them in this time.
I am intoxicating with resentment.
I hate myself.
They never ask me if it is ok that they invade me, conquer my territory. I was a virgin before you arrived, did even you know that? They want to see so closely what I am made of, they just want to admire me and that really flatters me most of the time. But yet, they simply assume that this is what I want, and it doesn't matter how much I protest or how I feel as long as they get to feel like the rainmaker. But what is left of me in the end?
This time I am ready to let the wound heal and I promise I won't let my child pick the scab again. She is very naughty and she simply loves doing that. She is the one who doesn't want the wound to heal as this means she is always going to have company and someone to look after her. She is never gonna have to feel alone again.
09 July 2021
Churchstanton, Somerset
Sometimes I feel like I am in a Stephen King novel, and that I will uncover the well to find what is left of my wife. She still comes around and haunts me every night just like she always used to do. Although, these days is even worse because now she is omnipresent. She knew so well who she was and what she wanted - I simply hated her for that. How dare she knows more than I do?
The only thing in sight is the hills that I can observe while I am working in the field and the steam coming from the ground with the heat. It is so bloody hot, I am sweating like a pig and my clothes are filthy. I want to scream - Enough! And run, hide in the shade to rest. I guess I wasn't born for this life after all. I have been carrying wood for the past week, and this is a job I have done all alone - It is better off this way as I like to be in control of things. I like to be in control of everything, but I know that the more I want to control, the more I know I can't and I hate it every time I realise that.
I have been alone for a while now, but I have the company of so many men in my mind. I can barely remember their names or how does it feel like to feel them on top of me. They might as well just all be the same, or maybe they are… Bah! I don't even know anymore. When I look around I can see layers and layers of hills. The hills that are closer to me are covered by clouds and they appear very dark. As I move my eyes further, the sun can reach those hills in the distance and I can see how green the grass is far away. Always very far away.
Those men are like the hills. The ones who are closer to me are covered by the clouds and they seem gloomy. The man that I want is the one in the distance, he lives where the sun is shining, and he stands tall and shows off to me, he lets me know he is out of reach. He is so bright, but he doesn't let me look straight at him because the light will blind me, he says. I can see him so very clearly and yet he is miles away.
The sad hills that are within my reach, I really don't care about them. Those are the ones I can just about remember the names. Please don't even ask me about their faces, it is just a blur. The hills I can reach are uninteresting as I can easily get to them, I can tame them, conquer them, step all over them and I have no time to waste with this. I want what I cannot have… Is there anything more desirable than the things that we believe to be unattainable? I want what I cannot have because desire lives in the lack. How could I ever wish for the things I already have? Only a crazy man would, and I am a clever man.
What is interesting to me is to see far, far away. To sit here and contemplate the beauty of the greener pastures that I will never lay foot upon. What is enticing to me is to daydream about all the things I wish I could… But I can't. How could I ever forget his name? The topography of that hill I remember well and also what it feels like… Oh! That's for sure! His name I call out to at night every time that I wish I could. I like to fantasize that if I run very quickly towards it I will be able to catch it! But the more I run towards it, the more it distances itself. It simply doesn't want to be tamed. And this is ok, I guess. I don't think I will win this time. And I hate it every time I realise that.
I cannot hear anything apart from the crows. Sometimes I feel like I am in a Stephen King novel. Most nights, I hear things and I don't know what they are. It is a bit scary and it makes me want to hide below my sheets and call for my dad, but instead, what I do when I am afraid and I hear a knock on my door is: I get up fast with intention, I slam the door open so firmly, with my chest inflated like a pigeon and I claim: This is my home! I want them to know I am here and that I am wide awake. They can only get me if I am asleep and let my guard down, but even then I am always ready for them. I told you that I can feel their presence, so there are never any surprises.
Every other day I hear gunshots and because of where I grew up I can't help to imagine someone is out there hunting and I am their prey today. But most of the time I can only hear the crows… It is very quiet here and everything reminds me of you, my beautiful wife. I miss you and I will be waiting for you tonight.
_______________________________________________________________________________________________________________________
Às vezes sinto que estou em um romance de Stephen King, e que vou destampar o poço para encontrar o que restou de minha esposa. Ela ainda aparece e me assombra todas as noites, como ela sempre fazia. Embora, hoje em dia seja ainda pior porque agora ela é onipresente. Ela sabia tão bem quem ela era e o que queria - eu simplesmente a odiava por isso. Como ela ousa saber mais do que eu?
A única coisa à vista são as colinas que eu posso ver enquanto trabalho no campo e o vapor que vem do chão com o calor. Está tão quente, eu estou suando como um porco e minhas roupas estão imundas. Eu quero gritar - Chega! E correr, esconder-me na sombra para descansar. Acho que afinal não nasci para esta vida. Tenho carregado madeira durante a última semana, e este é um trabalho que fiz sozinho - É melhor assim, pois gosto de estar no controle das coisas. Gosto de estar no controle de tudo, mas sei que quanto mais quero controlar, mais sei que não posso e odeio cada vez que me dou conta disso.
Já estou sozinho há algum tempo, mas tenho a companhia de tantos homens em minha mente. Mal consigo me lembrar de seus nomes ou de como é senti-los em cima de mim. Eles poderiam ser todos iguais, ou talvez sejam... Bah! Eu já nem sei mais. Quando olho ao meu redor, posso ver camadas e camadas de colinas. As colinas que estão mais próximas de mim estão cobertas por nuvens e parecem muito escuras. À medida que eu avanço meus olhos, o sol pode alcançar aquelas colinas que estão longe e posso ver como a grama é verde lá longe. Sempre muito distante.
Esses homens são como as colinas. Os que estão mais próximos de mim estão cobertos pelas nuvens e parecem sombrios. O homem que eu quero é aquele que está ao longe, ele vive onde o sol brilha, e ele se ergue e se exibe para mim, ele faz com que eu saiba que ele está fora de alcance. Ele é tão brilhante, mas não me deixa olhar diretamente para ele porque a luz vai me cegar, diz ele. Eu posso vê-lo tão claramente e ainda assim ele está a quilômetros de distância.
As colinas tristes que estão ao meu alcance, eu não ligo para elas. Esses são as que eu mal posso lembrar dos nomes. Por favor, não me pergunte sequer sobre seus rostos, pois é apenas um borrão. As colinas que posso alcançar são desinteressantes, pois posso facilmente chegar até elas, posso domá-las, conquistá-las, pisá-las, e não tenho tempo para perder com isso. Eu quero o que não posso ter... Existe algo mais desejável do que as coisas que acreditamos serem inalcançáveis? Eu quero o que não posso ter porque o desejo vive na falta. Como eu poderia desejar as coisas que já tenho? Só um homem louco o faria, e eu sou um homem inteligente.
O que é interessante para mim é ver longe, muito longe. Sentar-me aqui e contemplar a beleza dos pastos mais verdes sobre os quais nunca porei os pés. O que me seduz é sonhar acordado sobre todas as coisas que eu gostaria de poder... Mas não posso. Como eu poderia esquecer seu nome? A topografia daquela colina eu me lembro bem e também de como é... Oh! Isso é certo! O nome dele eu chamo à noite toda vez que eu gostaria de poder... Gosto de fantasiar que se eu correr muito rapidamente em direção a ele, serei capaz de pegá-lo! Mas quanto mais corro em sua direção, mais ele se distancia. Ele simplesmente não quer ser domado. E isto é bom, eu acho. Acho que não vou ganhar desta vez, e eu odeio cada vez que me dou conta disso.
Não consigo ouvir nada além dos corvos. Às vezes me sinto como se estivesse em um romance de Stephen King. Na maioria das noites, eu ouço coisas e não sei o que são. É um pouco assustador e me faz querer me esconder debaixo dos lençóis e chamar por meu pai, mas em vez disso, o que eu faço quando tenho medo e ouço uma batida na minha porta é: levanto-me rápido com intenção, abro a porta com tanta força, com o peito inflado como um pombo e anuncio: Esta é a minha casa! Quero que eles saibam que estou aqui e que estou bem desperto. Eles só podem me pegar se eu estiver dormindo e baixar minha guarda, mas mesmo assim estou sempre pronto para eles. Eu já lhes disse que posso sentir a presença deles, portanto, nunca há surpresas.
As vezes eu ouço tiros e, por causa de onde cresci, não posso deixar de imaginar que alguém anda por aí caçando e eu sou sua presa hoje. Mas na maioria das vezes só consigo mesmo é ouvir os corvos... Aqui é muito tranqüilo e tudo me faz lembrar de você, minha linda esposa. Eu sinto sua falta. Te espero hoje a noite.
07 July 2021
Churchstanton, Somerset
I have placed myself in the centre of my life, and the centre of my art.
I became the reference and everything springs from me.
I am the source now and everything else lives in the appendix of who I am.
Everything needs to pass through me to become alive.
I am the creator now and I no longer need to look outside asking for the things that compose me in my core.
I know who I am now.
At least in this very same moment, I know who I am.
I don't know how I am gonna wake up tomorrow.
I don't know who will wake up tomorrow.
I am the artist and the art. I am everything.
_______________________________________________________________________________________________________________________
Eu me coloquei no centro da minha vida e no centro da minha arte.
Eu me tornei a referência e tudo brota de mim.
Eu sou a fonte agora e tudo mais vive no apêndice de quem eu sou.
Tudo precisa passar por mim para se tornar vivo.
Sou o criador agora e não preciso mais olhar para fora pedindo as coisas que me compõem em meu âmago.
Eu sei quem sou agora.
Pelo menos neste mesmo momento, eu sei quem sou.
Eu não sei como vou acordar amanhã.
Eu não sei quem vai acordar amanhã.
Eu sou a artista e a obra de arte. Eu sou tudo.
30 June 2021
Churchstanton, Somerset
I woke at 3:35 am today and I was desperate to go to the toilet. I am having my periods and it seems my body just want to expel everything it can all at once. I have so many cramps and it has been a while I didn't feel so much pain and I am not really sure why. I think my body is trying to kill me. Similarly to creativity, going to the toilet is an urgency that cannot be ignored. Similarly to creativity (that also cannot be forced), going to the toilet is irrevocable. When it wants to come, it comes. And I had to go. My trip to the toilet is not an easy thing these days, I must cross a field and walk through a small forest to get to my compost toilet. It is probably a 5-10min walk and it is kind of lovely but it was 3:45 am and it is dark outside. Of course, I have my torch and this can guide my way, but what fun is that? I must walk in the dark.
I went outside and looked up in the sky thinking I would see a million stars but I only see the moon and what I think to be Venus. I went on my way. So I am walking across the field and like the very creative and highly impressed little thing that I am, I can't help but having my mind flooded with million thoughts… visions of witches walking around in the woods, Oxóssi hunting with his bow and arrow, shadows walking right behind me and every time I turn around I don't see them but we can feel their breath on our neck as we go and many other fantastic crawling creatures that our mind creates to terrify and banish us from the face of the Earth.
I was walking in the dark and I can barely see my way. I know this path a bit by now but I don't want to know where I am going. I am also afraid if I turn my light on, I will see the thing that is lurking behind me. I am very sensitive you see, and I have always seen and felt things around me. They know I can see them but I beg them to not reveal themselves to me because I am simply terrified and I don't want to hear the news they have for me. Most of the time they come to announce someone's death and I don't want to know that beforehand, but sadly I always do.
I am walking in the middle of Blackdown Hills now and as my mind rushes with thoughts of ghosts and dancing witches, I also think of all the men I loved and who are the most present monsters I have ever had in my life. I beg them to not reveal themselves to me, but they never obey - they want to be seen. Quite often they bear bad news as well, and I hate them all for that and much more. I want to conjure them to the gates of hell, but then I remember that I love them so profoundly and I need them around because they are me.
It is getting so hard now... and while I walk in the dark, it is so beautifully quiet and sad. I feel totally alone and it is the most magical thing in this world, I feel like I am the last man alive. And maybe I am.
I feel like I own the whole world and everything is mine. This is my land to take, this is my birthright to march through these woods without fear, to conquer it in the middle of this night. My irrational fear of witches is slowly replaced by the understanding that I am the one who needs to be feared. Everything around me moves as they hear my steps, they run away from me.
I am the one lurking behind them and all they want to do is run for their lives, and they should. I am the bearer of bad news. I can hear everything in this immense silence, every tiny stick that I break, leaves blowing, escaping beasts… I hear the whole world cracking, reshaping itself and making room so that I can come through.
I am back in my cabin now and it is getting lighter outside. I woke up before the birds and they are too announcing themselves with the aurora. Oh my loved Nietzsche, you just came to my mind now. I like to think we are so close to one another, writing like two mad people that we are. Alone in the woods. So self-absorbed in self-pity and willingness to extrapolate our beings but we simply don't know how to. We are so self-absorbed in lust for Salome and also relieved when we look around and realize she is not waiting at the bed for us to come and join her. We cannot create if she is around, can we? If she was here all we would want to do is to get lost between Salome's thighs… All we want to do is drink from her fountain, then drown and die with our mouths open like a fish.
My cabin is about 4x2 square meters and it has absolutely everything I need, and I come so close to realizing that I don't need much to be happy. At times, I just need Salome. Salome, my divine beauty come and knock at my door in the middle of the night like a ghost, and say that you love me and need me so I can be filled with inspiration and make art only to celebrate your life in my life. I am so lost in thoughts of you and I love you, mysterious Salome. Confused Salome.
I want to listen to you play music for me, share the little food I have with you, read for you so that you can fall asleep, send love letters to you, penetrate your mind so deeply that you will never be free of my presence, ever again. I want to cover you with my blanket at night, and to be cold so that you can be warm, Oh Salome why don't you come over? I long to share my days, my joys, my pains and my sadness with you so you can carry some of this with you. I've carried so many of your sorrows. Will you carry some of mine too?
Across my field, there is another cabin, and I can see there are two people in there, a couple. A happy one. Two people who managed to navigate their insecurities and fears in the name of sharing a life together always fascinates me. They are so rare, so fucking rare and I manage to find them. How lucky am I, hey? I was never able to do that, therefore I resent them, because they are what I cannot be, and they have what I long to have, but I am incapable of. They will go in a few days, and I so wish them to. They are so very lovely, and I simply want them to be gone. I want to be alone, fully alone, desperately alone, so profoundly alone that I will wish and I will cry for them to return. Please come back. Why did you leave me here like that?
_______________________________________________________________________________________________________________________

Acordei hoje às 3:35 da manhã e estava desesperada para ir ao banheiro. Estou menstruada e parece que meu corpo quer expulsar tudo de uma só vez. Tenho tantas cólicas e já faz um tempo que não sentia tanta dor e não sei bem por quê. Acho que meu corpo está tentando me matar. Da mesma forma que a criatividade, ir ao banheiro é uma urgência que não pode ser ignorada. Da mesma forma que a criatividade (que também não pode ser forçada), ir ao banheiro é irrevogável. Quando queremos ir, temos que ir. E eu tinha que ir. Minha ida ao banheiro não é uma coisa fácil hoje em dia, porque eu tenho que atravessar um campo e caminhar por uma pequena floresta para chegar ao meu banheiro de compostagem. É provavelmente uma caminhada de 5 a 10 minutos e é absolutamente adorável, mas eram 3h45 da manhã e está escuro lá fora. É claro que tenho minha lanterna e isto poderia me guiar, mas qual é a graça disso? Eu preciso caminhar no escuro.
Fui lá fora e olhei para cima pensando que veria um milhão de estrelas, mas só vejo a lua e o que penso ser Vênus. Segui meu caminho. Eu estava andando pelo campo e, como essa coisinha muito criativa e altamente impressionável que sou, não poderia deixar de ter minha mente inundada por milhões de pensamentos... visões de bruxas andando na floresta, Oxóssi caçando com seu arco e flecha, sombras andando atrás de mim e cada vez que me viro eu não as vejo, mas podemos sentir o fôlego delas em nosso pescoço enquanto seguimos. Enxergava também muitas outras fantásticas criaturas rastejantes que nossa mente cria para nos aterrorizar e nos banir da face da Terra.
Eu estava caminhando no escuro e eu mal consigo ver aonde eu piso. Já conheço este caminho um pouco, mas também não queria saber para onde estava indo. Eu também tinha medo que se eu acendesse a minha luz, eu veria o que se esconde atrás de mim. Sabe, eu sou muito sensível e sempre vi e senti coisas à minha volta. Eles sabem que eu posso vê-los, mas eu lhes peço que não se revelem a mim porque eu fico simplesmente aterrorizada e não tampouco quero ouvir as notícias que eles têm para mim. Na maioria das vezes, eles vêm para anunciar a morte de alguém e eu não quero saber isso de antemão, mas infelizmente eu sempre sei.
Agora estou andando no meio de Blackdown Hills e enquanto minha mente se precipita com pensamentos de fantasmas e bruxas dançantes, penso também em todos os homens que amei e que são os monstros mais presentes que já tive em minha vida. Peço-lhes que não se revelem para mim, mas eles nunca obedecem - eles querem ser vistos. eles também trazem muitas vezes más notícias, e eu os odeio a todos por isso e por muito mais. Quero conjugá-los aos portões do inferno, mas depois lembro que os amo tão profundamente e que preciso deles por perto porque eles são eu.
Está cada vez mais difícil agora e enquanto eu ando no escuro, é tão maravilhosamente quieto e triste. Sinto-me totalmente só e é a coisa mais mágica deste mundo, sinto-me como se fosse o último homem vivo. E talvez eu seja.
Sinto-me dono do mundo inteiro e tudo é meu. Esta é minha terra para tomar, esse é meu direito inato de marchar por estes bosques sem medo, e conquistá-lo no meio desta noite. Meu medo irracional das bruxas é lentamente substituído pela compreensão de que sou eu quem precisa ser temido. Tudo ao meu redor se move enquanto ouvem meus passos, eles fogem de mim. Sou eu quem está atrás deles e tudo o que eles querem fazer é correr por suas vidas, e devem fazê-lo.
Eu sou o portador de más notícias. Eu posso ouvir tudo neste imenso silêncio, cada pequeno graveto que eu quebro, as folhas caindo das árvores, feras escapando pela mata... Eu ouço o mundo inteiro rachando, estalando, remodelando-se e abrindo espaço para que eu possa passar.
Estou de volta à minha cabana agora, e está ficando mais claro lá fora. Eu acordei antes dos pássaros e eles já estão se anunciando com a aurora que chega. Oh meu amado Nietzsche, você acabou de vir à minha mente agora. Gosto de pensar que estamos tão próximos um do outro, escrevendo como duas pessoas loucas que nós somos. Sozinhos na natureza. Tão egocêntricos em autocomiseração e vontade de extrapolar nossos seres, mas simplesmente não sabemos como fazê-lo. Somos tão egocêntricos na cobiça por Salomé e no alívio quando olhamos em volta e percebemos que ela não está esperando na cama por nós para nos juntarmos a ela. Não podemos criar se ela está por perto, podemos? Se ela estivesse aqui, tudo o que iríamos querer fazer é nos perder entre as coxas de Salomé... Tudo o que iríamos querer fazer é beber de sua fonte, depois nos afogar e morrer com nossa boca aberta como um peixe.
Minha cabana tem cerca de 4x2 metros quadrados e tem absolutamente tudo o que preciso. Eu chego a pensar que não preciso de muito para ser feliz. Às vezes só preciso da Salome. Salomé, minha beleza divina vem e bate à minha porta no meio da noite como um fantasma, e diz que me ama e precisa de mim para que eu possa me encher de inspiração e fazer arte apenas para celebrar tua vida em minha vida. Estou tão perdido em pensamentos por você e eu te amo, misteriosa Salomé. Confusa Salomé.
Quero ouvir você tocar música para mim, compartilhar a pouca comida que tenho com você, ler para você para que possa adormecer, enviar cartas de amor para você, penetrar a sua mente tão profundamente que você nunca mais estará livre de minha presença. Eu quero cobrir você com meu cobertor à noite, e passar frio para que você possa estar aquecida, Oh Salomé, por que você não vem até aqui? Eu desejo compartilhar meus dias, minhas alegrias, minhas dores e minha tristeza com você para que você possa carregar um pouco disto consigo. Já carreguei tantas de suas mágoas. Você carregará algumas das minhas também?
Do outro lado do meu campo, há outra cabana, e posso ver que há duas pessoas lá dentro, um casal. Um casal feliz. Duas pessoas que conseguiram navegar em suas inseguranças e medos em nome da partilha de uma vida juntos é algo que sempre me fascina. Eles são tão raros, tão raros e eu consigo encontrá-los. Que sortuda eu, não? Eu nunca fui capaz de ter isso, por isso me ressinto deles, porque eles são o que eu não posso ser, e eles têm o que eu desejo ter, mas eu sou incapaz. Eles vão embora em poucos dias, e eu desejo tanto que eles vão. Eles são tão adoráveis, e eu simplesmente quero que eles desapareçam. Quero estar sozinha, totalmente só, desesperadamente só, tão profundamente só que desejarei e chorarei para que eles voltem. Por favor, voltem. Por que me deixaram aqui assim?
28 June 2021
Churchstanton, Somerset
Today was fucking terrible. I have been crying non-stop for 2 days now. I arrived in my new home for god knows how long. I am ill and tired, it is raining so much and I just want to say all my hellos already so I can go to my room and cry aloud. The reasons I am crying are many, but the most terrifying one is that I feel that I am stuck. I feel like I have no choice, therefore I have no freedom. The way I felt when I arrived here is terrible, I wanted to turn around and go back to an even sadder starting point in my journey. My time in London was simply amazing but I cannot see this right now.
Right now I am focusing on the negative and indulging in misery. I want to feed on it, shower in it, run towards and away from it, all at the same time. I want to be strangled by misery, hang myself from a tree by it because of so much pain and anger I feel right now and I just want it to be over. I run across those fields, it is raining so much! Why does it have to be raining so much? The rain makes everything worse.
My host lives 10km away from me and I am in a tiny cabin, surrounded by forest, limited electricity, no running water, no internet, no connection with anything, anyone. No connection with the place I am right now, I feel afloat. Watching my life from above and wishing I could pick myself up and flick myself miles away from where I am right now. Yet it has nothing to do with where I am, as I am trying to escape myself, although I am gonna have to bear her tonight. Sabrina, please dont't be hard on me tonight. Not tonight. They are already so miserable, so please just let them cry themselves to sleep.
I went for a walk so I could run away from myself as we often do and I cried in the middle of the road like a child. Not a fucking soul to be seen, just how I wished. Just how I dreamt. Just how I dread. I am all alone. I cry so loudly, uglily with a face that not even a mother could love, with a crying face that deserves no sympathy, just like a child screaming out loud in a shopping mall, and as we spot them all we want to do is smack them out of their meaningless tantrum. My body exudes water from every pore. I am getting dehydrated of so many tears I am shedding, I just want to melt with the rain and disappear through the drain.
Out of the blue, I get a message from him. He always calls me when I need him, he always feels when I am at my worse. No surprise there, we are connected in the pain. Always been, and always will be. Every single time since the 2nd September 2020 when I met you, you have always been there. You have always called me in the most random and necessary moments. I thank you so much for appeasing my heart today, you have flicked me back into the earth, and into my body. Oh boy, if only you knew how to love me and I knew how to love you… How fucking perfect this could be. We would sulk in perhaps the saddest relationship both of us would ever have in our lives.
Thank god we don't know how to love.
_______________________________________________________________________________________________________________________
Hoje foi uma merda. Estou chorando sem parar há dois dias. Cheguei em minha nova casa sabe Deus por quanto tempo. Estou doente e cansada, está chovendo muito e só quero dizer todo olá para todos e poder ir para o meu quarto e chorar em voz alta. As razões pelas quais estou chorando são muitas, mas a mais aterrorizante é que sinto que estou presa. Sinto que não tenho escolha, portanto, não tenho liberdade. A maneira como eu me senti quando cheguei aqui é terrível, eu queria dar meia volta e voltar a um ponto de partida ainda mais triste em minha jornada começou. O tempo que passei em Londres foi simplesmente incrível, mas não consigo ver isso agora.
Neste momento, estou me concentrando no negativo e me entregando à miséria. Quero me alimentar dela, tomar banho nela, correr em direção a ela e para longe dela, tudo ao mesmo tempo. Quero ser estrangulado pela miséria, me enforcar de uma árvore por causa de tanta dor e raiva que sinto neste momento e só quero que isto acabe. Eu corro por esses campos, está chovendo tanto! Por que tem que estar chovendo tanto? A chuva torna tudo pior.
Meu anfitrião vive a 10 km de mim e estou em uma cabana minúscula, cercada de floresta, eletricidade limitada, sem água corrente, sem internet, sem conexão com nada, com ninguém. Sem conexão com o lugar onde estou neste momento, sinto-me flutuando. Observando minha vida de cima e desejando poder me levantar e me catapultar a quilômetros de distância de onde estou neste momento. No entanto, não tem nada a ver com onde estou, pois estou tentando escapar de mim mesmo, e ainda assim vou ter que suportá-la esta noite. Sabrina, por favor, não seja difícil para mim hoje à noite. Não hoje à noite. Ela já está tão miserável, então, por favor, deixe-a chorar até adormeça.
Fui dar um passeio para poder fugir de mim mesma, como fazemos freqüentemente, e chorei no meio da estrada como uma criança. Não havia uma viva alma, exatamente como eu desejava. Exatamente como sonhava. Exatamente como eu temia. Estou completamente só. Choro tão alto, feio mesmo, com um rosto que nem mesmo uma mãe poderia amar, com um rosto chorão que não merece simpatia nenhuma, como uma criança gritando em voz alta em um shopping center, e quando as vemos, tudo o que queremos fazer é ignorá-las por causa de sua birra sem sentido. Meu corpo transpira água de cada poro. Estou ficando desidratado de tantas lágrimas que estou chorando, eu só quero derreter com a chuva e desaparecer pelo ralo.
De repente, recebo uma mensagem dele. Ele sempre me chama quando preciso dele, ele sempre sente quando estou em minha pior situação. Não é surpresa, estamos conectados na dor. Sempre estivemos, e sempre estaremos. Todas as vezes desde 2 de setembro de 2020, quando o conheci, você sempre esteve lá. Você sempre me chamou nos momentos mais aleatórios e necessários. Muito obrigado por apaziguar meu coração hoje, você me atirou de volta à terra, e ao meu corpo. Se você soubesse me amar e eu soubesse amá-lo... Como isto pode ser perfeito. Amuaríamos no relacionamento talvez mais triste que ambos jamais teríamos em nossas vidas.
Graças a Deus que não sabemos como amar.
18 June 2021
Roadhead, Carlisle
Amy, my last host saved me from an uncomfortable situation I got myself into with my previous host. She accepted me in her home and in a matter of a few hours after arriving at her place I was already feeling like myself again. We spoke briefly on the phone on the previous day, I explained to her my situation and she says: Come.
Trust
is a huge part of the things I am learning since I started my travels. I need to trust these people and equally, they need to trust me. Culturally for me, I was taught not to trust. With an overprotective father and a good amount of violence and abuse, seen and experienced back home, I guess that trusting someone is one of my biggest difficulties.
With Amy, I learnt so much about
motherhood
and
empowerment
, classism in rural England, and a bucolic part of Cumbria. She is bringing up two young women to be as resourceful and capable as herself. I've learnt about motherhood despite not being or ever wanting to become a mom. Amy, I need to thank you so much for helping me when I needed help and showing me that trusting first is the best way always - Always give the benefit of the doubt - I had the greatest time in Cumbria and the most lovely walks I had so far since I began my travels, I made a friend and felt like a teenager coming to meet a mate that you can feel totally comfortable around and in a matter of hours we were feeling really validate with one another, Max, you are a legend.
I also have to thank my previous host, the very very (horrible) wealthy ones, for teaching me also an important lesson about trust. And this time is more about trusting my instincts and listening to myself. This
family
has been quite a school, like most things in my life, and via disrespect, I learnt an important lesson about not making assumptions, and despite trusting people be aware of where you are and who you are with, as well as how this makes you feel. Always check how things truly make you feel.
Because even tho we don't like to admit to ourselves as if we do, it means we need to take action - We always know when we are in the wrong place, surrounded by the wrong people - With this sad family, I learnt a lesson about everything I don't want to be, a lesson about how to not be a family, a lesson about how much I want to be close to people that nurture and stimulate one another's
authenticity
and well-being. On top of that, I must never allow people's reality and values to affect my reality so strongly that I have the feeling that I need to metamorphose into something more palatable for others to be able to digest. No fucking way, suck my di-ck.
I want to thank my second host in
Pembrokeshire
because there I truly embraced my solitude, sense of self-worth and started to listen to my inner child. I felt really really alone in this place and I loved every fucking second of it. I worked totally independently, and again a lesson about trusting others: despite my little experience in farming, Gerald who has decades of
knowledge
, has put in my hands the responsibility to make sure he will have what to grow in the next few months. Literally and metaphorically, in my hands.
He trusted me when I said that I knew what I had to do, and that meant the world as I find hard to believe in my own resourcefulness at time. The sense of respect for himself and mostly myself was immense, and because he trusted me so much I only felt like I had to retribute this. And so I did. I poured my heart into growing all my beautiful children in the polytunnels, speaking to them, checking on them, watering them, weeding, making sure they were developing well as if I was the one who would benefit from their produce. But actually, I was indeed the one who was benefiting from this produce.
In this place, I learnt that I love the
sea
and I urge to be close to it. I need to sit on the beach, stare at the water as this really grounds me like nothing else. I rode a bike in there, it was so so so so amazing, riding a bicycle in the
countryside
pretty much all by myself and just letting this kid play and let her hair down. I learnt at this place that I really am everything I truly need, and I don't mean I haven't been moved and forever changed by every single word, moment, touch, exchange, person who came into my life. I simply mean, I am no longer afraid to lose people in my life. The only person I can never lose sight of is myself. Let people go.
After this period, I am learning so much as well about what lifestyle I want for me, the things I need and at times the things I don't need but want to have. Learning how much I am willing to compromise to save money for instance, actually really learning that money is a force for good and the more resource I have, the more I can serve. I can live close to nature, ethically but I don't need to struggle so much. In fact, I am tired of so much
struggle
. That is imperative! I don't want to rejoice in the poetic suffering anymore, to romanticise it anymore, to feel that if I elevate myself, or wish for greater things I will lose a huge part of my identity, my personality. I don't need to identify with the lack to have a place to speak, to be validated and if I am in a space that this is the belief, I don't want to be part of it.
Ok, lastly, this is a funny thing: This is a picture of this morning and I am heading to London again after nearly a year of travelling between Wales and England volunteering with farming and supporting local communities during the Covid crisis. I have to say, this coat is a fucking beast and the only thing that can resist my current lifestyle. Wearing a high-vis is something that makes me really proud, you only see legends in high-vis: builders, farmers, ambulance attendants and in general a whole bunch of really fucking necessary people for this society to keep rolling.
Tbh it gives me an immediate sense of pride to wear this jacket, but I know for sure that it has some stigma associated with it as most legends that I mentioned previously are working-class people and/or immigrants. Yet, in the second picture is me, in the best room of The Hoxton in London being treated like a fucking queen. And yeah, I can exist in both places, in fact I can exist in ALL places. Still, It was for sure very funny arriving here dressed like this, I guess they say… don't judge the book by its cover innit. Anyway, I need to see where my next place will take me. This is the end for now. X
One day I will say: This is where it all begun. (PART 3)
_______________________________________________________________________________________________________________________
Amy, minha última anfitriã me salvou de uma situação desconfortável em que me encontrava com minha anfitriã anterior. Amy me aceitou em sua casa e em poucas horas após minha chegada eu já estava me sentindo como eu denovo. Falamos brevemente ao telefone no dia anterior, eu expliquei a ela minha situação e ela me disse: Venha. A confiança é uma grande parte das coisas que estou aprendendo desde que comecei minhas viagens. Preciso confiar nessas pessoas e igualmente, elas precisam confiar em mim. Culturalmente, para mim, eu fui ensinada a não confiar nas pessoas. Com um pai super-protetor, uma mãe bastante assustada com a vida e uma boa dose de violência e abuso, visto e experimentado em casa e na rua, acho que confiar em alguém é realmente uma das minhas maiores dificuldades.
Com Amy, aprendi muito sobre maternidade e empoderamento, classismo na Inglaterra rural, e uma parte bucólica de Cumbria. Ela está educando duas jovens mulheres para serem tão incríveis e capazes como ela mesma é. Eu aprendi sobre a maternidade mesmo apesar de não ser e nunca querer ser mãe. Amy, eu preciso agradecer muito por você me ajudar quando eu precisava de ajuda e me mostrar que confiar primeiro é o melhor caminho sempre - sempre dar o benefício da dúvida para as pessoas - eu tive uma estadia maravilhosa, calma e enriquecedora em Cumbria e os passeios mais adoráveis que fiz desde que comecei minhas viagens, fiz também um amigo e me senti como uma adolescente vindo encontrar o melhor amigo que mora no fim da rua (Rô te amo eternamente) e que você pode se sentir totalmente confortável ao redor e em questão de horas nós estávamos nos sentindo realmente validados e felizes com aquele encontro, Max, você é foda!
Também tenho que agradecer ao meu anfitrião anterior, os horrorosos ricaços e infelizes, por me ensinar também uma lição importante sobre confiança. E desta vez é mais sobre confiar em meus instintos e escutar a mim mesmo. Esta família foi uma escola e tanto, como a maioria das coisas na minha vida. Através do desrespeito e falta de amor que eles nutriam uns pelos outros, aprendi uma lição importante sobre não fazer suposições e, apesar de confiar nas pessoas, estar ciente de onde você está e com quem você está, bem como de como isto o faz sentir-se. Verifique sempre como as coisas realmente te fazem sentir. Essa é a maior bússola que você deve seguir.
Porque mesmo quando não gostamos de admitir para nós mesmos, nós sempre sabemos quando estamos no lugar errado, cercados pelas pessoas erradas - Com esta triste família, aprendi uma lição sobre tudo o que não quero ser, uma lição sobre como não ser uma família, uma lição sobre o quanto quero estar perto de pessoas que nutrem e estimulam a autenticidade e o bem-estar uns dos outros. Além disso, nunca devo permitir que a realidade e os valores das pessoas ao meu redor afetem minha realidade tão fortemente que eu tenha a sensação de que preciso me metamorfosear em algo mais palatável para que os outros possam digerir. De jeito nenhum, chupar meu pau.
Quero agradecer ao meu segundo anfitrião em Pembrokeshire porque lá eu realmente abracei minha solidão, senso de auto-estima e comecei a ouvir minha criança interior. Eu me senti realmente sozinha neste lugar e adorei cada segundo. Trabalhei com total independência, e novamente uma lição sobre confiar nos outros: apesar de minha pouca experiência na agricultura, Gerald, que tem décadas de conhecimento, colocou em minhas mãos a responsabilidade de garantir que ele terá o que comer e vender nos próximos meses. Literalmente e metaforicamente, em minhas mãos.
Ele confiou em mim quando eu disse que eu sabia o que estava fazendo e isso significou demais pra mim, já que eu acho difícil acreditar em minhas próprias capacidades em grande parte do tempo. O senso de respeito que cresceu em relação a ele e a mim mesma era imenso, e porque ele confiava tanto em mim que eu só sentia que tinha que retribuir isto. E assim o fiz. Derramei meu coração para garantir o crescimento de todos os meus lindos filhos nos politúneis, falando com eles diariamente, verificando como estavam crescendo, regando-os, certificando-me de que eles estavam se desenvolvendo bem como se eu fosse que me beneficiaria de seus frutos. Mas, na verdade, era sim eu que estava me beneficiando dos seus frutos.
Neste lugar, aprendi que amo o mar e almejo estar próximo a ele. Preciso sentar-me na praia, olhar para a água, pois isto realmente me fixa no momento como nada igual. Eu andei de bicicleta ali, foi tão incrível, andando de bicicleta no campo praticamente sozinha e deixando esta criança brincar e soltar seus cabelos, andar de bicicleta rápido, sem medo. Aprendi neste lugar que sou realmente tudo o que realmente preciso, e não quero dizer que não me comovo e mudo a todo momento por cada palavra, momento, toque, troca, pessoa que entra em minha vida. O mundo me muda o tempo todo. Simplesmente, não tenho mais medo de perder pessoas em minha vida. A única pessoa que eu nunca posso perder de vista sou eu mesmo. Deixe as pessoas irem embora. Deixe as pessoas que querem ir embora.
Depois deste período, estou aprendendo tanto sobre o estilo de vida que quero para mim, as coisas que preciso e às vezes as coisas que não preciso, mas que quero ter. Aprender o quanto estou disposta a me submeter à situações difíceis somente para economizar dinheiro, por exemplo, aprender realmente que o dinheiro é uma força para o bem e quanto mais recursos eu tiver, mais poderei servir. Eu posso viver próximo à natureza, eticamente, mas não preciso sofrer tanto. Na verdade, estou cansado de tanto sofrimento. Isso é imperativo! Não quero mais me alegrar com esse sofrimento poético, não quero mais romantizá-lo, sentir que se eu me elevar, ou desejar coisas maiores, perderei uma grande parte de minha identidade, minha personalidade. do meu caráter. Ter recurso não me faz uma pessoa ruim, me faz uma pessoa capaz de poder tocar e melhorar a vida das pessoas que amo, admiro, apoio e quero bem. Não preciso me identificar com a falta para ter direito de poder me expressar, um lugar para falar, para ser validado e se estou em um espaço em que esta é a crença, não quero fazer parte dele.
Ok, finalmente, isto é uma coisa engraçada: Esta manhã eu estou indo para Londres, vestida com meu clássico 'high vis' e depois de quase um ano de viagem entre o País de Gales e a Inglaterra como voluntária trabalhando com agricultura, construção etc no apoio às comunidades locais durante a crise da Covid. Devo dizer que este casaco é foda pra caralho, além de ser a única coisa que consegue aguentar o meu estilo de vida atual. Usar um casaco high vis é algo que me deixa realmente orgulhoso, você só vê gente pica usando eles: construtores, agricultores, atendentes de ambulância e, em geral, um monte de pessoas realmente necessárias para que esta sociedade continue rolando.
Pra falar a verdade, me dá uma sensação imediata de orgulho de usar este casaco, mas eu sei com certeza que ele tem algum estigma associado a ele pois grande parte das pessoas que mencionei anteriormente são da classe trabalhadora e/ou imigrantes e esse uniforme é comumente usado por nós. A parte engracada é que dessa vez eu cheguei em Londres em grande estilo. Um amado amigo se ofereceu para pagar a minha estadia no hotel The Hoxton em Londres e eu estava sendo tratada como uma rainha. Então eu cheguei lá, com uma calça toda manchada de tinta, meu high vis pra me fazer meu check in e sim, eu posso existir em ambos os lugares, de fato, posso existir em TODOS os lugares. Ainda assim, com certeza foi muito engraçado chegar lá vestido assim, acho que dizem... não julgue o livro por sua capa, não. De qualquer forma, preciso ver para onde meu próximo lugar me levará. Este é o fim, por enquanto. X
Um dia eu vou dizer: Foi aqui que tudo começou. (PARTE 3)
17 June 2021
Roadhead, Carlisle
On the 10th of September 2020, I was heading to
Llandysul
in
Wales
to stay on an organic farm for 2 months. I felt like a little girl that was leaving the nest for the first time despite moving out from
#Rio
when I was 23 to live in London, but on that occasion, I came to live with my boyfriend. So, I guess this time was the first time in my life that I saw myself alone and travelling alone. And it is a short trip but like I said before, doing things on my own used to scare me a lot.
Fear has always been around and also a great companion of mine, I grew up fearing everyone and everything. Both my parents are terrified of pretty much everything and did the great deed to presenting me and my sisters with this unwelcomed (and constant) ghost - irrational fear. So, probably in response to that and like the good codependent that I am, I've always taken comfort in relying on others for a lot of things and failed to see how resourceful I can be when I am on my own.
When I arrived at this farm, and during all that journey I already felt so overwhelmed and happy with myself, that is a foreign feeling to me as I am prone to give myself a really hard time. It was so so so good leaving London behind, and I felt like I could do anything I wanted and I was already feeling full of purpose and closer to my authentic self like I probably haven't felt in decades. I was doing something for myself and I couldn't fucking believe that.
When I arrived at that place, it was sunny and beautiful... I felt like I had always been there. I remember going inside Nathan's car and it was so full of mud and all I wanted was to be covered in mud as well. Little would I know that being covered in mud while farming in Wales would be a very easy task to achieve.
I spent my days with two wonderful
women
with whom I learnt so much, Teresa who is a fantastic human being and Mia, a partner in crime, who saved me more times than I will ever be able to retribute. And who I will forever be
grateful
I crossed paths with. We even made a
collaboration
of a series of
photographs
entitled Verstehen and this was shown in a residence with A Casa da Escada Colorida for ArtRio.
After nearly 3 months in Wales, I went back to
London
to more precisely break the heart of a really kind man. I am sorry J. and thank you for all you have done, and tried to do for me. This trip would bring me more fortunes than I could ever foresee, but that I would only find out long after. In January I would return to the same farm and in total, I spent nearly 6 months there.
With Nathan's family, I learnt about companionship and raising kids with
respect
and
celebrating
their
individuality
. I saw two clever young women being allowed to follow each other's own gift, without the need to expect that both would 'be the same' or with the assumption they are supposed to fulfil
parental
's expectations. It was so so refreshing to be part of this family and see a different interaction between parents and
children
. I must never forget, my LOVED Rocket, my beautiful
daily
companion. A border collie that would endure any weather with me, and spend all our time together.
I've started to learn how to
#love
myself, being in silence, feeling at peace, enjoying looking after my health, what I eat, daily walks and being genuinely good for
myself
. I have never done anything like this before. I used to love trying my hardest to kill myself with each decision I made before, every single second of my days. And now, I hope I am forever changed.
In the past 9 months I: sowed over 20 thousand fruits and vegetables, I harvest kilos and MORE kilos of produce, I lived near children for the first time in my life, I lived with a 3-generations farmer in a lovely caravan in Pembrokeshire overseeing the Blue Lagoon and feeling utterly, utterly
blessed
every single day. I rode a bicycle for the first time since I was a young girl, I feed and nurtured my
innerchild
. I tried to love again and failed miserably. I started
therapy
. Spent my
birthday
working on the field in a storm so strong that could only be the annunciation of something
extraordinary
yet to come. I farmed during winter, in the rain, snow, in the dark, cold, heat, wet, mud...
I walked over 600 km, I lived in a
luxurious
cottage that would probably cost me £5k month in rent if that was in London with a very very wealthy family of very very dubious character and also in a very very humble caravan with the most beautiful family I ever met in my life. I looked after horses, chickens, ducks, dogs, rabbits, cats. I worked as a builder, as a designer, as a cleaner, as a nanny. I fixed tractors, lived by the sea, in nature, felt so terribly lonely, and learnt how to love my
solitude
, my own company, spending time with myself, getting to know myself, falling in love with myself...
I learnt how to listen to myself, to leave when love is no longer being served, to listen to my gut, to heal myself from past and current traumas, to help others, to trust, to feel loved and to feel like I can love again. I cured my broken heart that I realised, in fact, is been broken when I was a child. Actually, I am still working on that one. (PART 2)
_______________________________________________________________________________________________________________________
No dia 10 de setembro de 2020, eu estava indo para Llandysul no País de Gales para ficar em uma fazenda orgânica por 2 meses. Me senti como uma garotinha que estava saindo do ninho pela primeira vez apesar de ter saído do Rio de Janeiro quando eu tinha 23 para morar em Londres, mas nessa ocasião tinha ido morar com meu namorado. Então, acho que desta vez foi a primeira vez na minha vida que me vi sozinha e viajando sozinho. E é uma viagem curta, mas como eu disse antes, fazer as coisas sozinha costumava me assustar muito.
O medo sempre esteve por perto e também era um grande companheiro meu, cresci com medo de tudo e de todos. Meus pais estavão sempre apavorados com quase tudo e acabaram passando para mim e minhas irmãs esse fantasma indesejável (e constante) - o medo irracional. Portanto, provavelmente em resposta a isso e como bom co-dependente que sou, sempre me consolava em depender de outras pessoas para muitas coisas e não consiguia ver como fazer as coisas mais simples quando estava sozinho.
Quando cheguei nessa fazenda, e durante toda aquela jornada eu já me sentia tão maravilhada e feliz comigo mesma, é um sentimento estranho para mim, pois estou propensa a colocar muito peso nas coisas e tenho dificuldade de enxergar as coisas positivas que eu conquisto. Foi tão bom deixar Londres para trás, e eu senti que poderia fazer qualquer coisa que eu quisesse e já estava me sentindo cheia de propósito e mais próxima do meu eu autêntico como provavelmente não me sentia há décadas. Quem sabe nem nunca havia me sentido. Eu estava fazendo algo por mim mesma e eu não conseguia acreditar nisso.
Quando cheguei naquele lugar estava ensolarado e lindo ... Eu me sentia como se sempre tivesse estado lá. Lembro-me de entrar no carro de Nathan e ele estava tão cheio de lama e tudo que eu queria era estar coberta de lama também. Eu mal saberia que ficar coberto de lama trabalhando em uma fazenda durante o outono/inverno no País de Gales seria uma tarefa muito fácil de conseguir.
Passei meus dias com duas mulheres maravilhosas com quem aprendi muito, Teresa que é um ser humano fantástico e Mia, uma parceira de crime, que me salvou mais vezes do que jamais poderei retribuir. E a quem serei eternamente grato por ter cruzado o caminho. Até fizemos uma colaboração de uma série de fotografias intitulada Verstehen e isso foi mostrado em uma residência artística com A Casa da Escada Colorida para a ArtRio.
Depois de quase 3 meses no País de Gales, voltei para Londres para mais precisamente partir o coração de um homem realmente gentil. Lamento J. e agradeço tudo o que você fez e tentou fazer por mim. Essa viagem a Londres me traria mais fortunas do que eu poderia prever, mas isso só saberia muito depois. Em janeiro eu voltaria para a mesma fazenda e, no total, passei quase 6 meses lá.
Com a família de Nathan, aprendi sobre companheirismo e como amar suas crianças com respeito e celebrando sua individualidade. Vi duas jovens mulheres inteligentes sendo incentivadas a seguir seus dons e paixões, sem a necessidade de querer que ambas 'fossem iguais' ou com a suposição de que supostamente elas deveriam saciar as expectativas dos pais. Foi tão maravilhoso fazer parte desta família e ver uma interação diferente entre pais e filhos. Nunca vou esquecer também do meu AMADO Rocket, meu belo companheiro diário. Um border collie que me acompanharia a todos os lugares e suportaria qualquer clima comigo, nós passamos todo o nosso tempo juntos.
Comecei a aprender a amar-me, a estar em silêncio, a sentir-me em paz, a gostar de cuidar de minha saúde, pensar com cuidado sobre o que como, a caminhar diariamente e ser genuinamente boa para mim mesma. Nunca fiz nada assim antes. Antigamente eu adorava me esforçar ao máximo para me matar diariamente com cada decisão que tomava. Eu espero estar para sempre mudada.
Nos últimos 9 meses eu: semeei mais de 20 mil frutas e vegetais, colhi quilos e MAIS quilos de alimentos, vivi perto de crianças pela primeira vez em minha vida, aprendi com um fazendeiro a 3 gerações e morei em uma bela caravana em Pembrokeshire com uma vista para The Blue Lagoon in Abereiddi e me sentindo totalmente, totalmente abençoado a cada dia. Andei de bicicleta pela primeira vez desde que era uma menina, alimentei e cuidei da minha criança interior. Tentei amar novamente e falhei miseravelmente. Comecei a fazer terapia. Passei meu aniversário trabalhando no campo em uma tempestade tão forte que só poderia ser o anúncio de algo extraordinário ainda por vir. Cultivei durante o inverno, na chuva, na neve, no escuro, no frio, no calor, no molhado, na lama...
Andei mais de 600 km, vivi em uma casa luxuosa que provavelmente me custaria 5 mil libras por mês de aluguel se fosse em Londres, com uma família muito rica e de caráter muito duvidoso e também em uma caravana muito humilde com a família mais bonita que já conheci em minha vida. Eu cuidei de cavalos, galinhas, patos, cães, coelhos, gatos. Trabalhei em obra, e também como designer, faxineira, fazendeira, como babá. Consertei tratores e nem sei dirigir um carro, vivi junto ao mar, na natureza, senti-me tão terrivelmente só, e aprendi a amar minha solidão, minha própria compania, passar tempo comigo mesmo, conhecer-me, apaixonar-me por mim mesmo...
Aprendi a me escutar, a partir quando o amor não está mais sendo servido, a escutar meu instinto, a me curar de traumas passados e atuais, a ajudar os outros, a confiar, a me sentir amada e a sentir que posso amar novamente. Curei meu coração partido que, de fato, percebi que foi partido quando eu era criança. Na verdade, eu ainda estou trabalhando nisso. (PARTE 2)
16 June 2021
Roadhead, Carlisle
On the 16th August 2020, I was at the Whittington Health Hospital in London because I had been feeling unwell for a few days, things like pain in my left arm, indigestion, pain in my chest, irregular heartbeat - so I called the emergency and I said: I think I am having a heart attack! This hospital was close to my house and for some reason, I felt like I should walk there. You see, I am not a big fan of walking and after 11 years living in London, my modus operandis was getting from A to B as fast as I could. But that day, I walked.
I arrived there and they saw me very quickly and it was fucking insane to look down on my chest and see all those electrodes, I couldn't really believe how the hell I was in a situation like that. Just a week ago I was (or thought I was) happy and in love, making plans with someone who I truly thought 'was the one'. On the 14th August, he ended things for no reason at all - his words. No explanations, no need to speak about anything, that it, kaput! Just walked away as easy as you pop in a kebab shop at 2 am, drunk of your face desperate to rush home to eat and get stoned. Just off you go. Yeah... 2 days after he's done this, I truly felt like I was going to die, emotionally, and apparently, literally.
So, I was sitting outside waiting for my results and I was ofc alone... and to be fair, I have been alone and felt alone for so many years now, that this was just a homely place to me, to look around and see no one there. It was kinda peaceful to not have anyone around me as most of the time people around me just make me feel even worse, judged and unsettled. And yet, I was not happy within myself. You know... that self-contempt of you feeling at home within yourself... fuck I wish I felt that way. To be alone for me, or to be with Sabrina was really fucking terrifying. It was so scary because I never wanted to face her and/or what she had to say to me. She was very harsh, so having the company of someone/a man was always the easiest option for me to avoid staring at Sabrina in her eyes. Men are for me what vodka is for an alcoholic.
I am thinking to myself 'We were supposed to be together today'. Fuck, this would be our 1st anniversary celebration, you've met my parents, my home, you came to see where I grew up... What da fuck, was I missing something? Either way, while I was sitting there, it properly hit me where I was and why I was there. And I was thinking, girl are you upset over some guy, look where you are! 'I might be having a heart attack.' I took a deep breath and said to myself: No, Sabrina, you are not having a fucking heart attack. You are going to leave this hospital, today, by the same entrance that you walked in, and you are going to smoke your last cigarette sitting outside that bench and you will walk away, you will go home today.
Long short story: I was having a panic attack AND the doctor said: Btw, drink some water, you are fucking dehydrated (the 'fucking' was my poetic interpretation of the scene). So I go to the hospital so bloody worried thinking that I had something really serious and I leave with 'drink some water,' I mean... And so that was it. I went outside, sat at that bench, smoke a delicious cigarette, throw my very full pack of tobacco away and walked back home, what happened to me that day and after was fucking transformational.
Before anything, I have to say: I have the gift of turning shit into manure like no one I have ever met in this life, and for that, I am very thankful because it was many MANY years of self-pity, blaming others, holding hands with my depression, self-harm and the list goes on until I have learned how to reframe the things that happened to me. But this time, I am tapping myself in the back. I fucking beasted out because OMFG I was truly broken heart and lost.
Well as you can imagine I was feeling pretty miserable because this is what happened when you say to someone and yourself that another person is your life, your world, everything to you. They leave and you are hopeless because you lost everything. You don't even know who you are or what you are supposed to do with your life now. So, I was living in London, a city I disliked living in for pretty much the whole time I lived there. (Sorry London, you know we have a bitter-sweet history, and I am so thankful for all you allowed me to become, but bitch please).
There is Covid and things are pretty strange, I was supposed to start a Master (online) that I was quite aware I didn't want to do it anymore but like the good people-pleaser that I was, I was like: What will people think of me if I don't do this MA? What da fuck I am supposed to do with this Masters anyway? How is this gonna change my career? Improve my life? Why and who am I doing this for?
Basically, a bunch of really important questions that I was pretending weren't bothering me for quite some time, because I was too busy playing mom-and-dad with Harry Houdini. I literally NEVER realised that pretty much my whole life I have been so busy wanting to please others that I never done for me the question of What do you want? What would make me happy?
I sat with myself and thought: I am gonna make a pros/cons list of Why to do this Masters, and man, wasn't I confronted with A reality hehehe? I had just ONE reason why I should do the Masters and a full page and the back of reasons why I shouldn't do it. You know, making a pros/cons list is a magical thing... if you make a list like I did, you look at that and YET you go do the Masters... My God, this is called denial or like we say in my family 'living our own illusions'.
I looked at that list, and in 5min I decided: I AM NOT GOING TO DO IT! It felt like a huge weight was lifted from my back! I wrote a very brief and straightforward email to my university thanking for the opportunity but declining the Masters. IT WAS SO EASY TO DO IT.
It was SO easy to do now that I didn't have the shadow or the pressure to fulfill especially the expectation of this same guy that left me just like that. .What I've done next was writing a list of what I wanted. And again, I looked around and thought: Fuck... I need to leave. I don't even know where this idea came from, or what I looked for in my Google searches, but a website called Workaway appeared and the rest is history. (PART 1)
_______________________________________________________________________________________________________________________
No dia 16 de agosto de 2020, eu estava no Whittington Health Hospital em Londres porque eu estava me sentindo mal há alguns dias, coisas como dor no braço esquerdo, indigestão, dor no peito, batimentos cardíacos irregulares - então eu chamei a emergência e disse: Acho que estou tendo um ataque cardíaco! Este hospital ficava perto de minha casa e, por alguma razão, senti que deveria caminhar até lá. Veja bem, eu não sou um grande fã de caminhar e depois de 11 anos vivendo em Londres, meu modus operandis era ir de A para B o mais rápido possível. Mas naquele dia, eu caminhei.
Cheguei lá e eles me viram muito rápido e foi uma loucura olhar para baixo e ver no meu peito todos aqueles eletrodos, eu não podia acreditar como diabos eu estava numa situação como aquela. Há apenas uma semana atrás eu estava (ou pensava estar) feliz e apaixonado, fazendo planos com alguém que eu realmente pensava que "era o tal". No dia 14 de agosto, ele terminou as coisas sem nenhuma razão. Sem explicações, sem a necessidade de falar sobre nada, assim tipo kaput! Simplesmente se afastou tão facilmente como se estivesse numa loja de kebab às 2 da manhã, bêbado e desesperado para correr para casa para comer e ficar chapado e comer. Dois dias depois dele ter feito isso, eu realmente senti que ia morrer, emocionalmente, e aparentemente, literalmente.
Então, eu estava sentado lá fora esperando meus resultados e estava como sempre sozinha... e sinceramente, eu tenho me sentido sozinho há tantos anos, que olhar em volta e não ver ninguém lá, era como estar em casa. Na verdade é sempre um grande alívio olhar em volta e não ver ninguém, pois na maioria das vezes as pessoas ao meu redor somente me fazem eu me sentir ainda pior, julgada e inquieta. E ainda assim, eu não estava feliz estando sozinha. Sabe... aquele sensação de você se sentir em casa dentro de si mesmo... Porra, eu gostaria de me sentir assim. Estar sozinho para mim, ou estar com Sabrina foi sempre realmente aterrorizante. Era tão assustador porque eu nunca queria enfrentá-la e/ou o que ela tinha para me dizer. Ela era muito dura, então ter a companhia de alguém (homem) era sempre a opção mais fácil para mim para evitar olha-lá nos olhos. Os homens são para mim o que a vodka é para um alcoólatra.
Estou pensando comigo mesmo: "Era para estarmos juntos hoje". Porra, esta seria a comemoração do nosso 1º aniversário de namoro, você conheceu meus pais, minha casa, você veio ver onde eu cresci... Que merda, eu tinha perdido alguma coisa? O que aconteceu? De qualquer forma, enquanto eu estava sentada lá, me atingiu como uma flecha aonde eu estava e porque eu estava lá. E eu estava pensando: Cara, você está chateada por causa de um cara, olha onde você está! Eu poderia estar tendo um ataque cardíaco. Eu respirei fundo e disse para mim mesma: Não Sabrina, você não está tendo uma porra de um ataque cardíaco. Você vai sair deste hospital, hoje, pela mesma entrada que entrou, e outra, você vai fumar seu último cigarro sentada lá fora naquele banquinho e vai embora, você vai para casa hoje.
Encurtando a história: Eu estava tendo um ataque de pânico e o médico disse: A propósito beba água, você está desidratada pra caramba! Então fui eu para o hospital tão preocupada pensando que eu tinha algo realmente sério e saí com 'beba um pouco de água'... Impressionante! Fui eu lá fora, sentei naquele banco, fumei um gostoso cigarro, joguei fora meu maço de tabaco bem cheio e voltei para casa, o que me aconteceu naquele dia e depois foi muito transformador.
Antes de tudo, tenho que dizer: Sério, eu tenho o dom de transformar merda em adubo como ninguém que jamais conheci nesta vida, e por isso, estou muito grata porque foram muitos anos de autocomiseração, culpando os outros, abraçando a minha depressão, auto-flagelação e a lista continua... até o dia em que eu aprendi a reestruturar as coisas que me aconteceram. Mas desta vez, estou me dando um tapinha nas costas costas, porque eu estava realmente fodida e com o coração partido.
Bem, como você pode imaginar, eu estava me sentindo bastante miserável porque é isso que aconteceu quando você diz a alguém (e a você mesmo) que outra pessoa é sua vida, seu mundo, tudo para você. Eles vão embora e você fica sem esperança porque perdeu tudo. Você nem sabe quem você é ou o que deve fazer com sua vida agora. Portanto, eu estava morando em Londres, uma cidade em que não gostava de viver por praticamente todo o tempo que lá vivi. (Desculpe Londres, você sabe que temos uma história agridoce, e estou muito grato por tudo o que você me permitiu, mas bitch please).
Bem, tem o Covid e as coisas são bem estranhas pra caramba no mundo todo, eu deveria começar um Mestrado (online) que eu estava bem ciente de que não queria mais fazer, mas como o bom people-pleaser que eu era, eu somente ficava pensando: O que as pessoas vão pensar de mim se eu não fizer esse mestrado? O que eu devo fazer com este mestrado, afinal? Como isso vai mudar minha carreira? Melhorar minha vida? Por que e para quem estou fazendo isso?
Basicamente, um monte de perguntas realmente importantes que eu estava fingindo que não me incomodavam por um bom tempo já, e tudo isso porque eu estava muito ocupada brincando de casinha com o Harry Houdini. Eu literalmente NUNCA percebi que durante toda minha vida eu estive tão ocupado querendo agradar aos outros que nunca fiz para mim a pergunta: O que você quer? O que me faz feliz?
Sentei-me comigo mesmo e pensei: Vou fazer uma lista de pros/contras de Por que eu deveria fazer este mestrado, e cara... eu fui confrontada com a realidade hehe. Eu tinha apenas UM motivo pelo qual eu deveria fazer os mestrado e uma página inteira (frente e verso) das razões pelas quais eu não deveria fazê-lo. Fazer uma lista de pros/contras é uma coisa mágica... Porque se você fizer uma lista como eu fiz, e você olhar para aquilo e AINDA ASSIM você vai e faz o mestrado... sinceramente o nome disso é estar em negação ou como dizemos em minha família "vivendo nossas próprias ilusões".
Eu olhei para essa lista e em 5min eu decidi: EU NÃO VOU FAZER O MESTRADO! Senti como se um peso enorme tivesse sido retirado das minhas costas! Escrevi um e-mail muito breve e direto para minha universidade agradecendo pela oportunidade, mas recusando o mestrado. FOI TÃO FÁCIL FAZER ISSO. Algo que me 'assombrava' há anos e simplesmente naquele momento foi tão fácil tomar aquela decisão.
Foi tão fácil tomar essa decisão agora que eu não tinha a sombra ou a pressão para suprir, especialmente, a expectativa deste mesmo cara que me deixou sem mais nem menos. O que fiz logo em seguida foi escrever uma lista do que eu queria. E novamente, olhei em volta e pensei: Foda-se... Preciso ir embora. Nem sei de onde veio esta idéia, ou o que procurei em minhas buscas no Google, mas apareceu um site chamado Workaway e o resto é história. (PARTE 1)
29 May 2021
Roadhead, Carlisle
Text by Razão Inadequada translated from Portuguese:
https://razaoinadequada.com/2017/09/03/devir-orvalho-por-um-amor-possivel/
'If becoming-cloud spoke of the capacity to deterritorialise, to leave territories, to search for new encounters, then we need to think: where does all this lead? After all: where do we re-territorialise ourselves? These are two sides of the same coin - a life - which seeks encounters and for this it needs to come and go, arrive and depart, land and fly. Because one does not live only from the heights.
The concept of becoming cloud was created to answer a question: what is love? How to escape from heavy love? One must become light, but not frivolous. Is there any other answer than to evaporate? Well then... a concept is born. But one concept always connects with another. We become clouds, we move our molecules aside to let the outside in, we acquire height, we gain intensity, we experiment and experience new ways of existing. All with the intention of escaping from the weight and gravity of condensed, heavy, compacted loves.
But how far can we go in deterritorialisation? When is it time to say enough? We talk a lot about becoming a cloud, of course, because it is really important to soften love, to deterritorialise it and de-Platonise it from social constraints. But a question remains, ironically, in the air... where and when do we reterritorialise ourselves?
Becoming dew is a concept! The time has come to descend... after much gliding, we see the earth as a great map of possible affections! The winds have taken us along new paths, but who says that the land is not also full of promises? We cherish a possible love! After becoming a cloud, we want to become dew? to learn from the silence of the night, where the drop of water falls asleep on the surface of the plant.
Fasten your seatbelts, we will make contact with the ground! We don't know exactly where, but we want to create a new territory, draw up plans. The sky is too dispersed, we want some consistency too! The turquoise blue asks to meet the telluric brown. At heights, everything becomes excessively confused, misaligned, imprecise. Even those that float need a little consistency and constancy.
Dew is the need to put one's feet on the ground, to feel the earth vibrating. Even the flight asks for rest, even the wind sits on a corner to take a breath. The cloud wants to reterritorialise itself, to ground itself so as not to be confused with chaos! It wants to be part of the active growth process of life. The cloud wants to become an oak, in the sense of encountering the plant and experiencing its surface.
After all experiences, it is necessary to cultivate oneself, Nietzsche will say, in order to know what is one's own and what is not. A little quay in the chaos is necessary. A port that offers comfort. The creator does not live only in excesses, the affirmer does not live only in excesses, the immanent does not live only in schizos, the rhizome does not live only in flows.
The becoming dew speaks of the encounter between supposed opposites. As all becoming is an encounter, in it each one experiences the experience in an absolutely singular way and therefore is transformed. The dew stays overnight on the petal, to recharge its energies or simply because it loves the encounter with that which is so different from it. Love for difference. The leaf holds the drop of water, because it loves its freshness, because it admires its mobility, or simply because it wants to dive into the difference of kingdoms. The dew descends from the sky, the plant rises from the earth. Everything is done in the middle of the road, in between, but the middle is between... it is difficult to know where it will end. Still, each one asks only that it be eternal while it lasts, because we know we cannot stop time from flowing.
There is pleasure in leaving, we already know, but there is also pleasure in arriving. "How are things here?", "What has changed, what's new?", "Your hair has grown..."; the friend is different after years abroad, the house on the beach is changed, the old relationship is different when we meet you at a party or for coffee. Sometimes you land somewhere else, and it's great, because new territories offer new perspectives, more open horizons; "What does this do here?", "What's that for?". The parents' house is different from the sorority, which is different from the new city we move to.
The dew reterritorializes itself to see the sun rise together with the leaf, they want to spend this moment together, the former feeds on the complex air currents, the latter on the fertile soil at its feet. Becoming dew is mutual admiration, mutual respect, and each one lives it differently, on one side and on the other. The drop of water longs for luminosity to set out on new adventures; but when it is night, when it is cold, the little cloud asks for a green and living bed to rest a little.
That is why we want, when daylight comes, to rush out and open the curtains: we want to see the dew that was deposited during the night while we slept. We are lovers of encounters. The dew loves life, so it wakes up on the edge of a green leaf. "But the cold of the night kills the green of the plant," say the lurking pessimists, limiters of becoming. And we reply, "No, the plant asks for the dew, because it is alive and strong enough to welcome it and sustain it with you." There are no hierarchies, one is not better than the other, there are only connections of desire.
The big question is where are we going with all this? What are we running away from? Or have we learned to finally create active lines of escape, where the point of arrival multiplies the horizons of existence? We want to make love possible. To learn to reterritorialise desire in a fertile soil to produce more desire. Will we succeed? We do not know the answer to this question, it is all a question of where we land! The great thing about affirming the outcome, without resenting it, letting new winds carry us or allowing the winds to carry us back.
A forced or planned landing does not prevent us from taking off ever more daring flights! The becoming dew is a trampoline, it shelters without holding, it welcomes to carry forward, it is a catapult of affections that multiplies the possibilities of life. When we land, we bring a gift from previous lives; when we leave, we take the affections, the touch with us. The sweetness of the encounter recharges our energies and brings the sweet freshness of eternity.'
_______________________________________________________________________________________________________________________
Texto de Razão Inadequada:
https://razaoinadequada.com/2017/09/03/devir-orvalho-por-um-amor-possivel/
Se o
devir-nuvem
falava da capacidade de se desterritorializar, de deixar territórios, de buscar por novos encontros, então precisamos pensar: aonde tudo isso vai dar? Afinal de contas: onde nos reterritorializamos? São dois lados da mesma moeda – uma vida – que busca efetuar encontros e para isso precisa ir e vir, chegar e partir, pousar e voar. Porque não se vive apenas das alturas.
O conceito devir nuvem foi criado para responder uma pergunta: o que é o amor? Como escapar dos amores pesados? É preciso tornar-se leve, mas não leviano. Haveria outra resposta senão evaporar? Pois bem… nasce um conceito. Mas um conceito sempre se conecta com outro. Nos tornamos nuvens, afastamos nossas moléculas para deixar o fora entrar, adquirimos altura, ganhamos intensidade, experimentamos e vivenciamos novas maneiras de existir. Tudo com o intuito de escapar do peso e da gravidade dos amores condensados, pesados, compactados.
Mas até onde podemos ir na desterritorialização? Quando é hora de dizer chega? Falamos muito do devir nuvem, claro, porque realmente é importante
suavizar o amor
, desterritorializá-lo e
desplatonizá-lo
das amarras sociais. Mas uma pergunta fica, ironicamente, no ar… aonde e quando nos reterritorializamos?
O devir orvalho é um conceito! É chegada a hora de descer… depois de muito planar, vemos a terra como um grande mapa de afetos possíveis! Os ventos nos levaram por caminhos novos, mas quem disse que o solo também não está cheio de promessas? Prezamos por um amor possível! Depois do devir nuvem, queremos devir orvalho… aprender com o silêncio da noite, onde a gota d'água adormece na superfície da planta.
Apertem os cintos, faremos contato com o solo! Não sabemos exatamente onde, mas queremos criar um novo território, traçar planos. O céu é demasiadamente disperso, queremos um pouco de consistência também! O azul turquesa pede para encontrar-se com o marrom telúrico. Nas alturas, tudo se torna excessivamente confuso, desalinhado, impreciso. Até mesmo os que flutuam precisam de um pouco de coerência e constância.
O orvalho é a necessidade de colocar os pés no chão, sentir a terra vibrando. Mesmo a fuga pede descanso, mesmo o vento senta numa esquina para tomar fôlego. A nuvem quer reterritorializar-se, aterrar-se para não confundir-se com o caos! Ela quer fazer parte do processo ativo de crescimento da vida. A nuvem quer devir-orvalho, no sentido de encontrar-se com a planta e experimentar sua superfície.
Após todas as
vivências
, é necessário
cultivar-se
, dirá Nietzsche, para saber o que é seu e o que não é. É preciso um pouco de cais no caos. Um porto que ofereça conforto. Nem só de desmedidas vive o criador, nem só de excessos vive o afirmador, nem só de esquizos vive o imanente, nem só de fluxos vive o rizoma.
O devir orvalho fala do encontro entre supostos opostos. Como todo devir é um encontro, nele cada um vivencia a experiência de uma maneira absolutamente singular e por isso transforma-se. O orvalho pernoita na pétala, para recarregar as energias ou simplesmente porque adora o encontro com aquilo que tanto difere dele. Amor pela diferença. A folha sustenta a gota d'água, porque ama seu frescor, porque admira sua mobilidade, ou simplesmente porque quer mergulhar na diferença de reinos. O orvalho desce do céu, a planta, sobe da terra. Tudo se faz no meio do caminho, no entre, mas o meio é entretantos… difícil saber onde vai dar. Ainda assim, cada um pede apenas que seja eterno enquanto dure, porque sabemos que não podemos impedir o tempo de fluir.
Há prazer em partir, já sabemos, mas há também prazer na chegada. "
Como estão as coisas por aqui?
", "
O que mudou, o que há de novo?
", "
Seu cabelo cresceu…
"; o amigo é diferente depois de anos no exterior, a casa na praia está mudada, o antigo relacionamento é outro quando o encontramos em uma festa ou para tomar um café. Às vezes se pousa em outro lugar, e é ótimo, porque novos territórios oferecem novas perspectivas,
horizontes
mais abertos; "
O que isso aqui faz?
", "
Pra que serve aquilo?
". A casa dos pais é diferente da república, que é diferente da cidade nova para a qual nos mudamos.
O orvalho se reterritorializa para ver o sol nascer junto com a folha, eles querem passar este momento juntos, aquele se alimenta das complexas correntes de ar, este, do solo fértil aos seus pés. O devir orvalho é mútua admiração, mútuo respeito e cada um o vive de maneira diferente, tanto de um lado quanto do outro. A gota d'água anseia pela luminosidade para partir em novas aventuras; mas quando faz noite, quando faz frio, a nuvenzinha pede por uma cama verde e viva para descansar um pouco.
Por isso nossa vontade de, quando a claridade chega, sairmos correndo e abrirmos as cortinas: queremos ver o orvalho que se depositou durante a noite, enquanto dormíamos. Somos amantes dos encontros. O orvalho ama a vida, por isso acorda na borda de uma verde folha. "
Mas o frio da noite mata o verde da planta
", dizem os pessimistas à espreita, limitadores de devires. E nós respondemos: "Não, a planta pede pelo orvalho, porque é viva e forte o bastante para acolhê-la e sustentá-la consigo". Não há hierarquias, um não é melhor que o outro, há apenas conexões de desejo.A grande pergunta é aonde chegaremos com isso tudo? Estamos fugindo do que? Ou será que aprendemos a criar finalmente linhas ativas de fuga, onde o ponto de chegada multiplica os horizontes da existência? Queremos tornar o amor possível. Aprender a reterritorializar o desejo em um solo fértil para produzir mais desejo. Será que conseguiremos? Não sabemos responder a esta pergunta, é tudo uma questão de onde vamos pousar! O grande problema de afirmar o resultado, sem ressentir-se, deixando-se levar por novos ventos ou permitindo que os ventos nos levem de volta.
Um pouso forçado ou planejado não impede de levantarmos voos cada vez mais audaciosos! O devir orvalho é um trampolim, ele abriga sem prender, acolhe para levar adiante, é uma catapulta de afetos que multiplica as possibilidades de vida. Ao pousar, trazemos um presente de vidas anteriores; ao partir, levamos conosco os afetos, o toque. A doçura do encontro recarrega nossas energias e traz o doce frescor da
eternidade
.
15 May 2021
Caldwell, Yorkshire
I guess I am a drifter. I don't know if I am able to stay in the same place too long anyway.
I don't like this place, I have to leave.
_______________________________________________________________________________________________________________________
Acho que eu sou um andarilho. Não sei se posso ficar muito tempo no mesmo lugar, de qualquer forma.
Não gosto deste lugar, eu preciso ir embora.
13 May 2021
Caldwell, Yorkshire
Each time I bring a new man to my life, I fall in love with myself more and more.
Those men are just a mirror reflecting who I am.
Although, I don't really need a mirror to be reminded of who I am.
_______________________________________________________________________________________________________________________
Cada vez que trago um novo homem à minha vida, apaixono-me cada vez mais por mim mesma.
Esses homens são apenas um espelho que reflete quem eu sou.
Embora eu não precise realmente de um espelho para ser lembrado de quem eu sou.
12 May 2021
Caldwell, Yorkshire
I miss working with plants, with the land and with something meaningful. I am ready to go.
To learn = To teach
To teach = To learn
_______________________________________________________________________________________________________________________
Sinto falta de trabalhar com plantas, com a terra e com algo que tenha significado. Estou pronto para ir embora.
Aprender = Ensinar
Ensinar = Aprender
11 May 2021
Caldwell, Yorkshire
Eu penso em você todos os dias.
Toda vez que eu me lembro eu choro.
E tudo me faz lembrar.
_______________________________________________________________________________________________________________________
I think of you everyday.
Every time I remember, I cry.
And everything reminds me.
10 May 2021
Caldwell, Yorkshire
'I am not the girl I used to be.
I think people can see it on my face.
She is what I've lost.
She is everything I want to be.'
Sometimes I try to remember when was the last time I had meaningful contact with another person.
The subway
, George Tooker, 1950.
I want to go back there, but I know if I return
I won't go back to the same place nor
I will be the same person who left.
Do not wish to crystallize time.
_______________________________________________________________________________________________________________________
'Eu não sou a garota que costumava ser.
Acho que as pessoas podem ver isso no meu rosto".
Ela é o que eu perdi".
Ela é tudo o que eu quero ser.'
Às vezes eu tento lembrar quando foi a última vez que tive uma interação significativa com outra pessoa.
Eu quero voltar lá, mas sei que se eu voltar
Eu não voltarei ao mesmo lugar nem
Eu serei o mesmo que partiu.
Não queira cristalizar o tempo.
9 May 2021
Caldwell, Yorkshire
Foque no seu desenvolvimente pessoal e profissional.
Nada está fluindo aqui, eu preciso ir.
OUÇA A SUA INTUIÇÃO!
_______________________________________________________________________________________________________________________
Focus on your personal and professional development.
Nothing is flowing here, I need to go.
LISTEN TO YOUR GUT!
27 April 2021
Caldwell, Yorkshire
Como deixar de ser carente:
Não tenha medo da solidão.
Se conheça. Eu era uma criança carente?
Pensando em como passar tempo de qualidade na minha própria companhia.
Parando pra pensar se eu sou carente mesmo ou somente quero competir para ser o centro das atenções do meu parceiro?
PARE DE DEPOSITAR TANTAS EXPECTATIVAS NO OUTRO!
Não fuja dos seus processos. Tenha paciência e confiança em você e na vida.
_______________________________________________________________________________________________________________________
How to stop being needy:
Don't be afraid of loneliness.
Get to know yourself. was I a needy child?
Think about how to spend quality time in my own company.
Stopping to think if I am really needy or if I just want to compete to be the centre of my partner's attention?
STOP PLACING SO MANY EXPECTATIONS ON THE OTHERS!
Don't run away from your processes. Have patience and trust in yourself and in life.
23 April 2021
Caldwell, Yorkshire
I am not afraid to look anymore. I want to see everything.
_______________________________________________________________________________________________________________________
Eu não tenho mais medo de olhar. Eu quero ver tudo.
16 April 2021
Caldwell, Yorkshire
Quem são as pessoas importantes que eu realmente quero na minha vida?
Pára de pegar o outro como promessa!
Tenha auto-responsabilidade e responsabilidade afetiva com os outros.
_______________________________________________________________________________________________________________________
Who are the important people I really want in my life?
Stop taking the other as a promise!
Have self-responsibility and affective responsibility towards others.

21 March 2021
Haverfordwest, Wales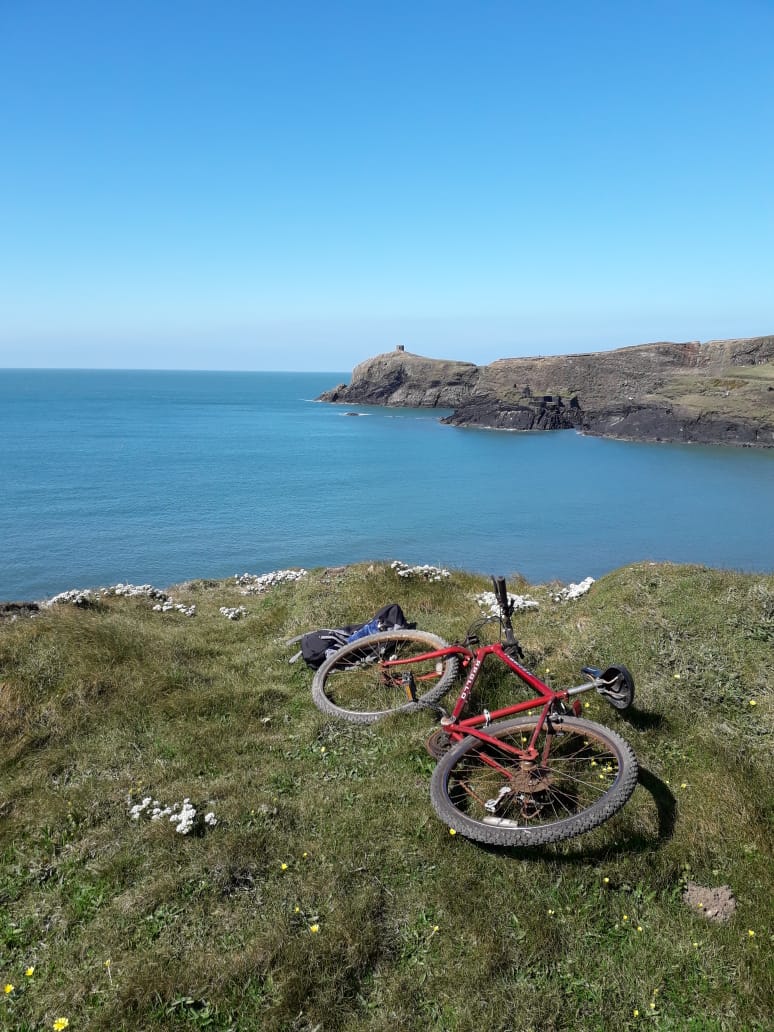 Estou sentada perto das ruínas na praia de Abereiddy com os pés no chão.
Minha criança está feliz e calma.
Estou olhando para o mar. Olhar para o mar é o meu lugar seguro.
Essa é a primeira vez que eu venho aqui, e como sempre você está no meu pensamento. No meu coração.
Eu te amo.
Mas agora é diferente pois eu sinto que eu me amo mais.
As memórias são lindas, mas agora o presente sempre é mais lindo.
Eu não vivo mais na minha cabeça. Eu moro na vida.
E quando as memórias forem melhores que o presente, mova-se em direção aonde a vida é bela.
Mova-se em direção à sua felicidade.
Pois a única coisa que existe é aqui e agora.
_______________________________________________________________________________________________________________________
I am sitting near the ruins on Abereiddy beach with my feet on the ground.
My child is happy and calm.
I am looking at the sea. Looking at the sea is my safe place.
This is the first time I have come here, and as always you are on my mind. In my heart.
I love you.
But now it's different because I feel that I love myself more.
The memories are beautiful, but now the present is always more beautiful.
I don't live in my head anymore. I live in life.
And when memories are better than the present, move towards where life is more beautiful.
Move towards your happiness.
For the only thing that exists is here and now.
11 March 2021
London, England
Sobre Dependência emocional:
- Esteja com alguém mas não dependa de alguém.
- Fortaleça sua identidade.
- Pare de querer controlar tudo.
_______________________________________________________________________________________________________________________
On Emotional dependence:
- Be with someone but don't depend on someone.
- Strengthen your identity.
- Stop wanting to control everything.
04 March 2021
Llandysul, Wales
Quando acaba pra mim, ACABA.
_______________________________________________________________________________________________________________________
When it is over for me. IT IS O-V-E-R.
02 March 2021
Llandysul, Wales
Notes taken while watching Healing The Inner Child by Christina Lopes.
https://www.youtube.com/watch?v=rTnEPNbtJtA
* Is my Inner Child hurt?
Did I experienced dysfunction on my life?
Did I have childhood trauma?
Did I feel safe as a child?
Did I feel loved as a child?
How are my relationships? (with friends, family, boyfriends)
Did I feel like I belonged in my family?
Do I have difficulty in having romantic relationships?
Am I emotionally immature in my relationships?
The Inner child is connected to the sacral chakra. Therefore, this being the home of our inner child – that part of us that has been denied, neglected, abandoned or rejected and that we try to hide.
* How to tell if my First Chakra (Sacral) is balanced?
Am I controlling?
Do I fear abandonment?
Do I feel like I belong or do I feel like an outsider?
Do I trust life?
Do I have any physical issues specially bone/joint issues?
Am I critical of my body?
* How can I heal my Inner Child?
1) Become aware of your Inner Child and start a dialogue with her, She needs to be seen, heard and loved (Reparenting).
2) Do First Chakra work:

Take your shoes off and feel the earth below your feet (Grounding).
Massage your limbs and feet.
Do grounding meditation (imagine roots coming out of your Sacral Chakra and rooting into the Earth).
Do an assessment of your inherited family valued, beliefs, prejudices, programming etc and write those down. Now think, which one of those beliefs do you want to keep? Which ones you want to return to your family?
Do a healing meditation 'Ask your God, the Heavens, ask your guides, orixás, simply ask to a Higher Power and be very specific with your wishes. 'It is my intention today to move from my ____ beliefs.'
3) Do mantra work: Find ways to speak to your Inner Child and calm her down. Say to her 'You are safe, you are loved, you are seen, you are heard, you are going to be fine, tell me what you need from me.' Tell your Inner Child whatever you believe she should've heard when you were a child. Speak to her without shame or fear, speak to her from your heart.
4) Guided meditation: Search online for Inner Child meditation and do it. It is a good thing also to put something so you can listen to before you fall sleep. If you fall sleep is good too, as once the body and mind are relaxed, new beliefs can be introduced and programmed into the subconscious via guided medidation for example.
5) Do integration exercises: In order to bring all your fragmented pieces together write down an intention for you. Christina suggested this: I intent to bring my Inner Child and all of her painful wounds and experiences back into union. I intent to integrate all these parts now. I am so loved. I am so honored. It is done.
_______________________________________________________________________________________________________________________
Anotações feitas enquanto assitia Curando sua Criança Interior, de Christina Lopes.
https://www.youtube.com/watch?v=rTnEPNbtJtA
* Minha criança interna está ferida?
Eu experimentei disfunções em minha vida?
Tive algum trauma na infância?
Eu me senti segura quando criança?
Eu me senti amado quando criança?
Como são meus relacionamentos? (com amigos, família, namorados)
Eu sentia como se pertencesse à minha família?
Será que tenho dificuldade em ter relacionamentos românticos?
Sou emocionalmente imaturo em meus relacionamentos?
A criança interior está conectada ao chakra sacral. Portanto, este é o lar de nossa criança interior - aquela parte de nós que tem sido negada, negligenciada, abandonada ou rejeitada e que tentamos esconder.
* Como saber se meu Primeiro Chakra (Sacral) está equilibrado?
Eu sou uma pessoa controladora?
Eu temo o abandono?
Sinto que pertenço ou me sinto como um forasteiro?
Eu confio na vida?
Tenho algum problema físico, especialmente problemas ósseos ou juntas?
Sou crítico em relação ao meu corpo?
* Como posso curar minha criança interior?
1) Tomar consciência de sua Criança Interior e iniciar um diálogo com ela, Ela precisa ser vista, ouvida e amada.
2) Faça o trabalho do Primeiro Chakra:
Tire seus sapatos e sinta a terra abaixo de seus pés.
Massageie seus membros e pés.
Faça meditação de aterramento (imagine raízes saindo de seu Chakra Sacral e enraizando na Terra).
Faça uma avaliação de seus valores familiares, crenças, preconceitos, programação, etc. e anote-os. Agora pense, qual dessas crenças você quer manter? Quais você quer devolver à sua família?
Faça uma meditação de cura "Pergunte a seu Deus, os Céus, pergunte a seus guias, orixás, simplesmente peça a um Poder Superior e seja muito específico com seus desejos". 'É minha intenção, hoje, parar com as minhas crenças em relação a ____'.
3) Faça um trabalho de mantra: Encontre maneiras de falar com sua Criança Interior e acalme-a. Diga a ela 'Você está seguro, você é amado, você é visto, você é ouvido, você vai ficar bem, diga-me o que você precisa de mim'. Diga à sua Criança Interior o que você acredita que ela deveria ter sido ouvida quando você era criança. Fale com ela sem vergonha ou medo, fale com ela de seu coração.
4) Meditação guiada: Procure online a meditação da Criança Interior e faça-a. É bom também colocar algo para que você possa ouvir antes de cair no sono. Se você acabar dormindo nesse processo também é bom, uma vez que o corpo e a mente estão relaxados, novas crenças podem ser introduzidas e programadas no subconsciente através de meditações guiadas, por exemplo.
5) Faça exercícios de integração:
A fim de reunir todas as suas peças fragmentadas, escreva uma intenção para você. Christina sugeriu isto: Eu pretendo trazer minha Criança Interior e todas as suas dolorosas feridas e experiências de volta à união. Pretendo integrar todas estas partes agora. Eu sou tão amada. Sinto-me tão honrada. Está feito.
23 February 2021
Llandysul, Wales
Eu ainda vou (me) amar muito.
Essa vida vai ser muito linda.
Essa vida é linda.
_______________________________________________________________________________________________________________________
I will still love (myself) a lot.
This life will be very beautiful.
This life is very beautiful.
22 February 2021
Llandysul, Wales
'Without great solitute, no serious work is possible.'
Making art saved my life.
_______________________________________________________________________________________________________________________
'Sem uma grande solidão, nenhum trabalho sério é possível.'
Fazer arte salvou minha vida.
13 February 2021
Llandysul, Wales
As memórias sao fixadas pelas emoções.
Não existe sentimento melhor ou pior.
A tristeza é necessária.
O medo e o nojo nos fazem sobreviver.
Muita alegria pode ser ruim.
A raiva impede injustiças.
Há memórias que acabam apagadas, e isso é bom.
A memória define e influencia a sua personalidade.
Nós temos um grande arquivo de memórias.
_______________________________________________________________________________________________________________________
Memories are fixed by emotions.
There is no better or worse feeling.
Sadness is necessary.
Fear and disgust make us survive.
Too much joy can be detrimental.
Anger prevents injustices.
There are memories that end up erased, and that is good.
Memory defines and influences your personality.
We have a large archive of memories.
05 February 2021
Llandysul, Wales
Procure sua conexão com sua criança.
O desenho é a maior memória que eu tenho da minha infância. Lembre-se de como voce se sentia conectada com você mesma. Tinha uma sensação de pertencimento, acolhimento e felicidade toda vez que sentava pra desenhar.
O desenho era e ainda é o seu melhor amigo.
O desenho era o lugar para aonde você fugia para poder se encontrar.
O desenho é a maior conexão que eu tenho com a minha criança.
Foca na magia, umbanda, bruxaria, ancestralidade...
O desenho é a maior constante na sua vida.
(RE)pense na sua arte.
Sempre encontre tempo para pintar o que você ama.
Pare de procrastinar.
Conecte-se com o desenho.
_______________________________________________________________________________________________________________________
Seek the connection with your child.
Drawing is the greatest memory I have of my childhood. Remember how connected you used to feel to yourself. You had a sense of belonging, warmth and happiness every time you sat down to draw.
Drawing was and still is your best friend.
Drawing was the place you used to escape to in order to find yourself.
Drawing is the greatest connection I have with my child.
Focus on the magic, Umbanda, witchcraft, ancestry...
Drawing is the greatest constant in your life.
(RE)think about your art.
Always find time to paint what you love.
Stop procrastinating.
Connect with drawing.
27 January 2021
Llandysul, Wales
I started therapy.
_______________________________________________________________________________________________________________________
Comecei a fazer terapia.
17 January 2021
Llandysul, Wales
Sabrina love yourself.
Please don't let anyone make you feel worthless.
Nobody can make you feel worthless.
You are amazing.
Please love yourself.
_______________________________________________________________________________________________________________________
Sabrina se ame.
Por favor, não deixe que ninguém o faça sentir-se inútil.
Ninguém pode fazer com que você se sinta inútil.
Você é incrível.
Por favor, ame a si mesma.
16 December 2020
London, England
Today I shaved my head. I wanted to die so I could be born again, when I got home I cried rivers, and you were there with me.
You were there for me, and I was there for you.
I died that day, and I was born again.
You helped me so much, and I will always love you for that.
_______________________________________________________________________________________________________________________
Hoje eu raspei a minha cabeça. Queria morrer pra nascer denovo, e quando cheguei em casa eu chorei rios.
Você estava lá para mim, e eu estava lá para você.
Eu morri aquele dia, e eu nasci denovo.
Você me ajudou muito e eu vou sempre te amar por isso.
07 December 2020
London, England
Tudo é sobre mim. Eu sou a pessoa mais importante.
'É verdade quando você mesmo diz e acredita ser verdade.'
As pessoas se abrem com você e se sentem confortáveis para falar.
Isso é um dom.
Nunca esqueça que sua personalidade é uma das suas maiores qualidades.
CONHECIMENTO - AÇÃO = CULPA
Eu não tenho responsabilidade nas expectativas que o outro cria pra mim.
Quando eu peço pouco, o outro se acostuma com isso e acaba te dando o que você pede. Pouco.
_______________________________________________________________________________________________________________________
Everything is about me. I am the most important person.
'It is real when you say it and you believe that it is true.'
People open up to you and feel comfortable talking.
That is a gift.
Never forget that your personality is one of your greatest qualities.
KNOWLEDGE - ACTION = GUILT
I have no responsibility for the expectations the other creates for me.
When I ask for little, the other gets used to it and ends up giving me what I ask for. Little.
07 December 2020
London, England
I feel so uncomfortable and judged all the time. When is this feeling ever gonna go away?
When will I ever grow out of those emotions? Do I need to grow out of this?
I am still the same person. Nothing changed...
I don't like realising that.
_______________________________________________________________________________________________________________________
Eu me sinto tão desconfortável e julgado o tempo todo. Quando este sentimento vai desaparecer?
Quando eu vou conseguir me livrar dessas emoções? Será necessário que eu me livre disso?
Eu ainda sou a mesma pessoa. Nada mudou...
Não gosto de me dar conta disso.
09 November 2020
Llandysul, Wales
Put yourself, your plans and dreams first.
Do not change your life to accomodate anyone ever again.
You will love more than once.
You will meet your soulmate a few times, if you allow yourself to.
Love people fully because one day they will go.
Believe in actions not words.
People lie. People will tell you the things they think you want to hear and the things they think they should say to you. Including yourself. You lie too.
PUT YOURSELF FIRST. ALWAYS!
You don't need a man to make you happy.
You don't need a man to not feel lonely, in fact, most of the times, in the company of a man is when you feel lonely the most.
You are the true love of your life.
Have fun and enjoy the ride. Things don't last forever.
Be mindful of who you give your time and energy to.
Don't create expectations.
Don't regret anything. You didn't waste your time. Nothing is a waste of time. Learn from everything and everyone.
Make sure you are actually happy in a relationship, and not with the potential that it might have.
You are stronger than you think.
Love yourself firstly and mostly.
You were my greatest lesson. I am the teacher.
_______________________________________________________________________________________________________________________
Coloque você, seus planos e seus sonhos em primeiro lugar.
Não mude sua vida para acomodar ninguém nunca mais.
Você vai amar mais de uma vez.
Você encontrará sua alma gêmea algumas vezes, se você se permitir.
Ame plenamente as pessoas porque um dia elas irão.
Acredite em ações e não em palavras.
As pessoas mentem. As pessoas lhe dirão as coisas que acham que você quer ouvir e as coisas que acham que devem dizer a você. Incluindo você. Você também mente.
COLOQUE-SE EM PRIMEIRO LUGAR. SEMPRE!
Você não precisa de um homem para fazer você feliz.
Você não precisa de um homem para não se sentir só, na verdade, na maioria das vezes, na companhia de um homem é quando você mais se sente só.
Você é o verdadeiro amor de sua vida.
Divirta-se e aproveite. As coisas não duram para sempre.
Esteja atento a quem você dá seu tempo e energia.
Não crie expectativas.
Não se arrependa de nada. Você não perdeu seu tempo. Nada é uma perda de tempo. Aprenda com tudo e todos.
Certifique-se de que você está realmente feliz em um relacionamento, e não com o potencial que ele possa ter.
Você é mais forte do que você pensa.
Ame-se em primeiro lugar e principalmente.
Você foi minha maior lição. Eu sou o professor.
01 November 2020
Llandysul, Wales
Ask yourself when you are in doubt: Would you 60 years old self thank you for that?
Today is the day that I found myself.
_______________________________________________________________________________________________________________________
Pergunte-se quando você estiver em dúvida: Você aos 60 anos de idade, te agradeceria por isso?
Hoje é o dia em que eu me encontrei.
07 October 2020
Llandysul, Wales
Coda diaries:
I like to give (love).
I met the love of my life a few times now.
I will love you forever, until forever is over.
I loved all of you, some more some less.
I am emotional all the time.
_______________________________________________________________________________________________________________________
Diário de uma Codependente:
Eu gosto de dar (amor).
Conheci o amor da minha vida algumas vezes agora.
Amá-lo-ei para sempre, até que o amor acabe para sempre.
Eu amei a todos vocês, alguns mais, outros menos.
Eu estou emocionada o tempo todo.
02 October 2020
Llandysul, Wales
Just a few weeks ago I finally moved out from London and I couldn't be any happier or feeling more purposeful in this life.
I am working with farming and it hasn't been a moment in my days that I feel like my time isn't being spent mindfully or purposefully. The feeling of inadequacy or 'wasting time' is something that is leaving my being day after day.
An when I have moments of disconnection from this path that I am now in, it creates such dissonance in my mind and it is impossible to deny that.
I mustn't forget to love all that I am commited to and if love is not longer there, I also must not be.
Pay attention to the signs and listen to your intuition Sabrina. That's the only compass that should guide you in this life, my child.
_______________________________________________________________________________________________________________________
Há apenas algumas semanas eu finalmente me mudei de Londres e não poderia estar mais feliz ou me sentindo mais determinada nesta vida.
Estou trabalhando com a agricultura e não teve um momento em meus dias em que senti que meu tempo não estava sendo gasto de forma consciente ou proposital. A sensação de inadequação ou 'perda de tempo' é algo que está deixando meu ser dia após dia.
Quando eu tenho momentos de desconexão deste caminho em que estou agora, isso cria tal dissonância em minha mente e é impossível negar isso.
Não posso esquecer de amar tudo aquilo com o qual estou comprometido e se o amor não está mais lá, também não devo estar.
Preste atenção aos sinais e escute sua intuição Sabrina. Essa é a única bússola que deve guiar você nesta vida, minha criança.
30 September 2020
Llandysul, Wales
On August 2020 I decided to change my life. Actually, life forced me to reflect.
After investing practically all my energy and affection in a person who left me for no apparent reason, life forced me to act.
After losing the 'love of my life', I had to understand that the love of my life is myself, that people come and go and that the only person who will truly remain is Sabrina. And I need to love that person, and listen to her longings and desires.
For the first time in 35 years, I decided to listen to what she wanted to tell me.
I had been living in London for over 10 years and for nearly 10 years I had been thinking about moving away from London. Living in the 'big city' has always bothered me, and as far as I can remember I've always wanted to move from the city to the country, to have a more genuine, more authentic, simpler, richer life.
Although, I always heard that I needed to spend 'the best years of my life' suffering in the city so that when I was exhausted from working so hard I could finally live this life outside the city.
Exactly two days ago I was supposed to be starting a master's degree in a very renowned college in London. A masters that I fought very hard to get accepted in 2018, and so I did. The only problem is that the person who applied for this master almost 2 years ago no longer exists. She wants other things now and this Masters would just be another attempt to 'hidde the sun with a sieve' and perform a life that is merely for others to clap at than for me to enjoy.
Just under a month ago I decided to leave London, and come and work on a small scale farm and do perhaps the most important thing I can think of, care for the land and feed people. There is no activism, award, masters, paycheck, boyfriend, exhibition that has brought that much meaning to my life.
Everything I do makes sense and is important.
Every day I'm listening more to my inner voice, my intuition, connecting with myself and consequently with the world, people, with life around me.
We want to change the world, but we can barely admit to how much we have and can change ourselves.
So, I decided to go for it. Do the same.
You will be happier.
_______________________________________________________________________________________________________________________
Em agosto de 2020, decidi mudar minha vida. Na verdade, a vida me obrigou a refletir.
Depois de investir praticamente toda minha energia e afeto em uma pessoa que me deixou sem razão aparente, a vida me forçou a agir.
Após perder o "amor da minha vida", tive que entender que o amor da minha vida sou eu mesmo, que as pessoas vêm e vão e que a única pessoa que realmente permanecerá é Sabrina. E eu preciso amar essa pessoa e ouvir seus anseios e desejos.
Pela primeira vez em 35 anos, decidi ouvir o que ela queria me dizer.
Eu vivia em Londres há mais de 10 anos e há quase 10 anos eu estava pensando em me afastar de Londres. Viver na "cidade grande" sempre me incomodou e, tanto quanto me lembro, sempre quis me mudar da cidade para o campo, para ter uma vida mais genuína, mais autêntica, mais simples, mais rica. Embora, sempre ouvi dizer que precisava passar "os melhores anos de minha vida" sofrendo na cidade para que, quando estivesse exausto de trabalhar tanto, pudesse finalmente viver esta vida fora da cidade.
Exatamente dois dias atrás, eu deveria estar iniciando um mestrado em uma faculdade muito renomada em Londres. Um mestrado que eu lutei muito para ser aceito em 2018, e assim o fiz. O único problema é que a pessoa que se candidatou a este mestrado há quase dois anos não existe mais. Ela quer outras coisas agora e este mestrado seria apenas mais uma tentativa de "esconder o sol com uma peneira" e realizar uma vida que é meramente para os outros aplaudirem do que para mim gozar.
Há pouco menos de um mês, decidi deixar Londres e vir trabalhar em uma pequena fazenda e fazer talvez a coisa mais importante que eu possa pensar, cuidar da terra e alimentar as pessoas. Não há nenhum ativismo, prêmio, mestre, salário, namorado, exposição que tenha trazido tanto sentido à minha vida.
Tudo o que eu faço faz sentido e é importante.
Cada dia ouço mais minha voz interior, minha intuição, me conectando comigo mesmo e, conseqüentemente, com o mundo, as pessoas, com a vida ao meu redor.
Nós queremos mudar o mundo, mas mal podemos admitir o quanto temos e podemos mudar a nós mesmos.
Por isso, decidi ir em frente. Faça o mesmo.
Você será mais feliz.
25 September 2020
Llandysul, Wales
'When you feel like your life has meaning and purpose, you take better care of yourself. You express yourself more freely and you really start to feel happier and more hopeful about life.'
I can be everything.
Remember how ill you used to feel in London. I do not feel this way anymore. No more reflux, no more anxiety, no more palpitation, pain in my chest, indigestion, tiredeness. I completely stopped smoking, no drugs, no alcohol.
_______________________________________________________________________________________________________________________
'Quando você sente que sua vida tem sentido e propósito, você cuida melhor de si mesmo. Você se expressa mais livremente e realmente começa a se sentir mais feliz e com mais esperança de vida.'
Eu posso ser tudo.
Lembre-se de como você costumava se sentir mal em Londres. Eu não me sinto mais assim. Não tenho mais refluxo, não sinto ansiedade, não tenho mais palpitações, dor no peito, indigestão, cansaço. Eu parei completamente de fumar, sem drogas, sem álcool.
23 September 2020
Llandysul, Wales
Use o tosco que estiver à sua volta para criar.
Documente tu-do.
Ontem eu tive uma conversa maravilhosa com o Jakub. Na verdade, eu percebi que eu estava maravilhada com as coisas que eu estava dizendo. Eu estava apaixonada e fascinada por mim mesma. Quantas foram as vezes na sua vida que as outras pessoas, especialmente seus namorados, foram um veículo para que você pudesse enxergar sua própria beleza?
_______________________________________________________________________________________________________________________
Use everything around you to create.
Document it all.
Yesterday I had a wonderful conversation with Jakub. In fact, I realised that I was in awe with the things I was saying. I was in love and fascinated with myself. How many times in your life have other people, especially your boyfriends, been a vehicle for you to see your own beauty?
19 September 2020
Llandysul, Wales
'Deal with reality in reality terms.'
'For you to create change you need to create consciousness.'
Learn your triggers that doesn't allow you to sustain healthy relationships with family, friends and lovers.
As vezes mesmo amando, nós fazemos a coisa errada.
Journaling is important to set intention for the day, be in the moment and be more spontaneous.
You don't have to have everything planned. Practise flexibility.
When you feel a bit emotional, explore this. Observe which wound or what not met need might be speaking to you. This will help you changing patterns.
Watch Midnight Gospel. Watch Midnight Gospel.
'What you desire is deliberately placed out of reach so that you can become the person it takes to obtain it.'
'Bethoven said that the point of being alive, the point of humanity is to approach divinity as closely as you possibly can and dissiminate those rays to man kind.'
Things to be grateful for:
G
ROWTH: personal growth, new skills.
I
NSPIRATION: moments that inspire you.
F
RIENDS/FAMILY: people who enrich your life.
T
RANQUILITY: the small and precious moments.
S
URPRISE: the unexpected / nice favours
'If you don't have a place, you can start a place. If you are alone, other people are alone too. I wanted company.'
'Listening is what grounds us. Listening keeps us in the present.'
'The more sensitive I get, the more I know. Every time I don's listen to my intuition it is a disaster. EVERY TIME.
Listening is the connection with the universe.
Work on yourself.
- cultivate gratitute.
- try a digital detox.
- use positive self-talk.
- practise ramdom acts of kindness.
- be mindful while eating.
- get enough sleep.
- breathe consciously.
- be organised / clean something.
- forgive yourself and others.
- engage in self-care.
- be kind to yourself.
- become your best friend.
Applying for Workaway was the biggest act of self love I have done for myself in fucking years! You are a legend, girl.
_______________________________________________________________________________________________________________________
'Lide com a realidade em termos reais.'
Para você criar mudanças, é preciso criar consciência'.
Aprenda seus gatilhos que não permitem manter relacionamentos saudáveis com a família, amigos e amores.
As vezes mesmo amando, nós fazemos uma coisa errada.
Journaling é importante para estabelecer intenção para o dia, estar no momento e ser mais espontâneo.
Você não tem que ter tudo planejado. Pratique a flexibilidade.
Quando você sentir um pouco emotivo, explore isso. Observe qual ferida ou o que não foi olhado pode estar tentando falar com você. Isto ajudará a mudar os seus padrões.
Assista Midnight Gospel. Assista Midnight Gospel.
'O que você deseja é deliberadamente colocado fora de alcance para que você possa se tornar a pessoa necessária para obtê-lo.'
Bethoven disse que o objetivo de estar vivo, o objetivo da humanidade é aproximar-se da divindade o mais próximo possível e dissimular esses raios para a espécie humana".
Coisas pelas quais se deve agradecer:
CRESCIMENTO: crescimento pessoal, novas habilidades.
INSPIRAÇÃO: momentos que o inspiram.
AMIGOS/FAMILIA: pessoas que enriquecem sua vida.
TRANQUILIDADE: os pequenos e preciosos momentos.
SURPRISA: os inesperados e bons favores
Se você não tem um lugar, você pode começar um lugar. Se você está sozinho, outras pessoas também estão sozinhas. Eu queria companhia".
'Ouvir é o que nos fundamenta. A escuta nos mantém no presente'.
'Quanto mais sensível eu fico, mais eu sei'. Cada vez que eu não escuto minha intuição, é um desastre. TODO O TEMPO.
A escuta é a conexão com o universo.


Trabalhe em si mesmo.
- cultive gratitute.
- experimente uma desintoxicação digital.
- use a conversa interna positiva.
- pratique atos de bondade aleatórios.
- esteja atento enquanto come.
- dorma o suficiente.
- respire conscientemente.
- seja organizado / limpe algo.
- perdoe a si mesmo e aos outros.
- se engaje no autocuidado.
- seja gentil com você mesmo.
- torne-se seu melhor amigo.
Me cadastrar no Workaway foi o maior ato de amor próprio que fiz por mim mesmo em anos! Você é foda, babe.
18 September 2020
Llandysul, Wales
I wonder if Nietzsche while travelling alone, seeking for inspiration and nature, calling each room he arrived, home, I wonder: Did he ever missed Salome? Did he wish Salome was with him in his travels? And if she was, would Nietzsche had been able to create like he did?
Did the absence of Salome, does the absence of Salome helps him create? Was the lack of her necessary in order for him to write? Was he in emotional pain, and if so, is emotional pain necessary for us to do the work? Is solitude necessary so we can create masterpieces?
Instead of trying to understand your shadow, you try to kill it.
Pain has become a third person.
To put suffering as a third person means to have a tendency to suicide.
Do not try to fight with life. Try to understand, and whatever you cannot understand is not to be understood.
'I am Exu. I am the one who protects you, I am the one who accompanies you.
Exu is not of water.
Exu made me learn an immense love that I couldn't find in any religion.
When I most need strength, it is my trunqueira.'
I want to learn more about Exu. Where are my guides? Who are my guides?
Exu is the one who guided me here today.
Exu who pulled me out of the hole.
If it wasn't for Exu I don't know where I would be.
I want to live the Umbanda.
I live in the world.
Marking the body is part of millenary traditions of the world.
We are what we carry in our soul, and many times it is pain.
Mia thank you for everything, you are wonderful.
Every day I remember that I love him, then I remember that I need to forget him.
_______________________________________________________________________________________________________________________
Pergunto-me se Nietzsche enquanto viajava sozinho, buscando inspiração e natureza, chamando cada quarto que chegava de casa, eu me pergunto: Será que ele sentiu falta de Salomé? Será que ele gostaria que Salomé estivesse com ele em suas viagens? E se ela estivesse, Nietzsche teria sido capaz de criar como ele fez?
A ausência de Salomé, a ausência de Salomé o ajuda a criar? A falta dela era necessária para que ele escrevesse? Estava ele com dor emocional e, se sim, a dor emocional é necessária para que possamos fazer o trabalho? A solidão é necessária para que possamos criar obras-primas?
Ao invés de você tentar entender a sua sombra, você tenta matá-la.
A dor virou uma terceira pessoa.
Colocar o sofrimento como terceira pessoa, significa ter uma tendência ao suicídio.
Não tenta brigar com a vida. Tenta entender e o que não der pra entender, não é pra ser entendido.
'Eu sou o Exu. Eu que te protejo, eu que te acompanho.
Exu não é de água.
Exu me fez aprender um amor imenso que eu não achei em religião nenhuma.
Quando eu mais preciso de força, é a minha trunqueira.'
Eu quero aprender mais sobre Exu. Cadê os meus guias? Quem são os meus guias?
Exu que me guiou aqui hoje.
Exu que me tirou do buraco.
Se não fosse por Exu eu não sei aonde eu estaria.
Eu quero viver a Umbanda.
Eu moro no mundo.
Marcar o corpo faz parte de tradições milenares do mundo.
A gente é o que a gente traz na alma, e muitas vezes é dor.
Mia obrigada por tudo, você é maravilhosa.
Todo dia eu lembro que eu amo ele, dai eu me lembro logo em seguida, que eu preciso esquecê-lo.
17 September 2020
Llandysul, Wales
I love being here.
I feel at home.
I feel valued.
I feel important.
I feel validated.
I feel purposeful.
I feel happy.
_______________________________________________________________________________________________________________________
Eu adoro estar aqui.
Eu me sinto em casa.
Eu me sinto valorizado.
Eu me sinto importante.
Eu me sinto validado.
Sinto-me cheia de propósito.
Sinto-me feliz.
10 September 2020
Llandysul, Wales
London, thank you so much for all you allowed me to accomplish in the past decade. I will be forever grateful, but it is time to say goodbye. <3
_______________________________________________________________________________________________________________________
Londres, muito obrigado por tudo o que você me permitiu realizar na última década. Serei eternamente grata, mas está na hora de dizer adeus. <3
09 September 2020
London, England
The world is bigger than the inside of your head.
Be where you are not where you think you should be.
Being kind to yourself makes hard things easier.
Watch this movie: I'm Thinking of Ending Things by Charlie Kaufman.
'Everything wants to live.
Life isn't always pretty in a farm. You should know that.
Life can be very brutal in a farm.
Everything wants to live. But everything dies.
Other animals live in the present but humans can't so, they invented hope.'
Christina's World by Andrew Wyeth, 1948.
I wish I could see the house you grew up. I want to spend the rest of my life with you.
Sometimes I want to torture you.
Sometimes it is easier to think that you died, after all, I will never see you again.
You are a ghost.
And just like that I was again, abandoned.
You must love all that you put your time and energy in doing.
DO NOT COMPLAIN!
Love everything that requires your time, love all that you dedicate yourself to.
Everybody has issues with their parents.
Friends are important. Friends can be helpful. Life can be hard.
I have so many unresolved issues with my parents. I have the impression that they are keeping me from moving foward in my life. Am I lying to myself?
Bonedog, a poem by Eva H.D.

Coming home is terrible
whether the dogs lick your face or not;
whether you have a wife
or just a wife-shaped loneliness waiting for you.
Coming home is terribly lonely,
so that you think
of the oppressive barometric pressure
back where you have just come from
with fondness,
because everything's worse
once you're home.

You think of the vermin
clinging to the grass stalks,
long hours on the road,
roadside assistance and ice creams,
and the peculiar shapes of
certain clouds and silences
with longing because you did not want to return.
Coming home is
just awful.

And the home-style silences and clouds
contribute to nothing
but the general malaise.
Clouds, such as they are,
are in fact suspect,
and made from a different material
than those you left behind.
You yourself were cut
from a different cloudy cloth,
returned,
remaindered,
ill-met by moonlight,
unhappy to be back,
slack in all the wrong spots,
seamy suit of clothes
dishrag-ratty, worn.

You return home
moon-landed, foreign;
the Earth's gravitational pull
an effort now redoubled,
dragging your shoelaces loose
and your shoulders
etching deeper the stanza
of worry on your forehead.
You return home deepened,
a parched well linked to tomorrow
by a frail strand of…

Anyway…

You sigh into the onslaught of identical days.
One might as well, at a time…

Well…
Anyway…
You're back.

The sun goes up and down
like a tired whore,
the weather immobile
like a broken limb
while you just keep getting older.
Nothing moves but
the shifting tides of salt in your body.
Your vision blears.
You carry your weather with you,
the big blue whale,
a skeletal darkness.

You come back
with X-ray vision.
Your eyes have become a hunger.
You come home with your mutant gifts
to a house of bone.
Everything you see now,
all of it: bone.


I can't sleep.
_______________________________________________________________________________________________________________________
O mundo é maior do que o interior de sua cabeça.
Esteja onde você está, não onde você acha que deveria estar.
Ser gentil com você mesmo torna as coisas difíceis mais fáceis.
Assista a este filme: Estou Pensando em Terminar as Coisas de Charlie Kaufman.
'Tudo quer viver.
A vida nem sempre é bonita em uma fazenda. Você deve saber disso.
A vida pode ser muito brutal em uma fazenda.
Tudo quer viver. Mas tudo morre.
Outros animais vivem no presente, mas os humanos não podem, então eles inventaram a esperança.'
Gostaria de poder ver a casa que você cresceu.
Quero passar o resto de minha vida com você.
Às vezes, quero torturá-lo.
Às vezes é mais fácil pensar que você morreu, afinal, nunca mais vou vê-lo.
Você é um fantasma.
E assim do nada fui novamente, abandonado.
Você deve amar tudo o que colocou seu tempo e sua energia em fazer.
NÃO RECLAME!
Ame tudo aquilo que requer seu tempo, ame tudo aquilo a que você se dedica.

Todo mundo tem problemas com seus pais.
Os amigos são importantes. Os amigos podem ser úteis. A vida pode ser difícil.
Tenho tantos problemas não resolvidos com meus pais. Tenho a impressão de que eles estão me impedindo de seguir em frente com a minha vida. Será que estou mentindo para mim mesma?
Bonedog, um poema de Eva H.D.

Chegar em casa é terrível,
quer os cachorros lambam seu rosto ou não;
quer você tenha uma esposa
ou apenas uma solidão em forma de esposa esperando por você.
Chegar em casa é terrivelmente solitário,
de modo que você pensa
na opressiva pressão barométrica
de onde você acabou de vir
com carinho,
porque tudo é pior
quando você está em casa.

Você pensa nos vermes
agarrado aos caules da grama,
longas horas na estrada,
assistência na estrada e sorvetes,
e as formas peculiares das
nuvens e silêncios
com saudade, porque você não queria retornar.
Voltar para casa é
simplesmente horrível.

E os silêncios e as nuvens ao estilo caseiro
não contribuem para nada,
mas para o mal-estar geral.
As nuvens, como elas são,
são de fato suspeitas
e feitas de um material diferente
daqueles que você deixou para trás.
Você mesmo foi cortado
de um tecido nublado diferente,
devolvido,
recuado,
mal-tratado pelo luar,
infeliz por estar de volta,
desleixado em todos os pontos errados,
com um traje costurado de roupa,
desgastado.

Você retorna para casa
estrangeiro;
o esforço de tração gravitacional da Terra
agora redobrou,
arrastando seus atacadores soltos
e seus ombros,
aprofundando a estrofe de preocupação
em sua testa;
você retorna para casa aprofundado,
um poço ressecado ligado ao amanhã
por um frágil fio de...

De qualquer forma...

Você suspira na investida de dias idênticos.
Mais vale, de cada vez.

Bem...
De qualquer forma...
Você está de volta.

O sol sobe e desce como
uma puta cansada,
o tempo imóvel
como um membro quebrado
enquanto você continua envelhecendo.
Nada se move, a não ser
as marés de sal em seu corpo.
Sua visão clarea.
Você carrega seu tempo com você,
a grande baleia azul,
uma escuridão esquelética.

Você volta
com visão de raio X.
Seus olhos se tornaram uma fome.
Você volta para casa com seus dons mutantes
para uma casa de ossos.
Tudo o que você vê agora,
tudo: osso.
Eu não consigo dormir.
08 September 2020
London, England
Making art isn't easy, I have the scars to prove it.
Make sure your mind is in the right place, otherwise everything will fall apart around you.
Separate who you are from what you do.
Eu preciso lembrar da minha vida.
The hard part is to be willing to be vulnerable.
'I think what I do is: I convince myself that the self-doubt is not there. AND IT OBVIOUSLY IT IS. Internally, I compare myself to others all the time. I'm always very hard on myself, that's why I always feel like outwardly I need to be perfect at all times. It is just something to deal with later that never gets dealt with. And I think now is time to attack it head on, BECAUSE WE ONLY GOT ONE CHANCE.'
I want to live in the world, in the reality and not on my mind. Get out of your head!
'Always find an element of joy throughout the things that you do everyday.'
Do not second-guess yourself.
Say what you mean and mean what you say!
Stop caring about what other people think about you.
Stop being afraid of being judged.
'Your gotta go through some shit, to see some shit.' Don't be ashamed of your past. You've done what you had to do in order to survive. Be proud of yourself because you are such an inspirational and strong human being. It was all worth it.
I am learning how to be strong on my own, rely on my own and be my best companion. Although, that doesn't mean I got where I am alone.
Please be present in your life.
Don't forget how sad you truly were the past year.
You cannot say that you were happy simply because you spent the whole year wishing it to be different.
You spent the whole year living in your head.
You spent the whole year not being present in your life, wanting the days to vanish.
You spent the whole year wishing to be close to someone who would soon leave you.
I never in my life want to have a year like my last year.
I never in my life want to live wishing my days to be different from what they are.

I want to love again when the time is right.
I want to love someone, and someone who loves me for what I mean.
Someone who has the courage to live in the world. In the reality and not only on their dreams.
You will love one day and someone will love you too.
You haven't loved yet, you have only been in love.
Those are two different things.
Falling in love is easy, being apaixonada is easy. And you been, many many times.
But loving is a different story.
Loving takes faith, humility, trusting.
Loving takes courage.
_______________________________________________________________________________________________________________________
Fazer arte não é fácil, eu tenho as cicatrizes para provar isso.
Certifique-se de que sua mente está no lugar certo, caso contrário, tudo irá desmoronar ao seu redor.
Separe quem você é do que você faz.
Eu preciso lembrar da minha vida.
A parte difícil é estar disposto a ser vulnerável.
'Eu acho que o que eu faço é: Eu me convenço de que a dúvida acerca de mim mesmo não existe. E OBVIAMENTE QUE EXISTE. Internamente, eu me comparo aos outros o tempo todo. Sou sempre muito duro comigo mesmo, é por isso que sempre sinto que, externamente, preciso ser perfeito o tempo todo. É apenas algo a ser trabalho sempre depois e que acaba sempre sendo deixado de lado. E eu acho que agora é hora de atacar de frente isso, PORQUE NÓS SOMENTE TEMOS UMA CHANCE'
Eu quero viver no mundo, na realidade e não na minha mente. Saia de sua cabeça!
'Sempre encontre um elemento de alegria em todas as coisas que você faz todos os dias'.
Não duvide de você mesma.
Pare de se importar com o que as outras pessoas pensam sobre você.
Pare de ter medo de ser julgado.
Você tem que passar por algumas merdas na vida'. Não tenha vergonha de seu passado. Você fez o que tinha que fazer para sobreviver. Tenha orgulho de si mesmo porque você é um ser humano tão inspirador e forte. Tudo isso valeu a pena.
Estou aprendendo a ser forte sozinho, a confiar em mim mesmo e a ser meu melhor companheiro. Embora isso não signifique que eu tenha chegado onde estou sozinho.
Por favor, esteja presente em sua vida.
Não se esqueça de como você realmente estava triste no ano passado.
Você foi infeliz pois simplesmente passou o ano inteiro desejando que ele fosse diferente.
Você passou o ano inteiro vivendo dentro da sua cabeça.
Você passou o ano inteiro sem estar presente em sua vida, desejando que os dias desaparecessem. Passassem.
Você passou o ano inteiro desejando estar perto de alguém que logo a deixaria.
Eu nunca mais na minha vida quero ter um ano como o meu último ano.
Nunca mais na minha vida eu quero viver desejando que meus dias sejam diferentes do que são.

Quero amar novamente quando chegar a hora certa.
Quero amar alguém do jeito que ele é, e alguém que me ame pelo o que eu sou.
Alguém que tenha a coragem de viver no mundo. Na realidade e não apenas em seus sonhos.
Você amará um dia e alguém também o amará.
Você ainda não amou, você só esteve apaixonado.
Essas são duas coisas diferentes.
Apaixonar-se é fácil, ser apaixonada é fácil. E você foi, muitas vezes.
Mas amar é uma história diferente.
Amar é ter fé, humildade e confiança.
Tem que ter coragem para amar.
07 September 2020
London, England
'Let the world see your truth.'
I dreamt about him tonight. I also dreamt about a door that I was trying to close but I couldn't. This door would slam open everytime, and I was trying to close it, lock it, put things in front of this door to keep it shut and everytime I turn around, the door would slam open. It feels so vivid, the sound of it, the feeling of it opening behind me. As I turn around, many people that I know, friends, family, lovers etc would enter the room, uninvited. I was so scared and fed up, I simply wanted to be alone but nobody cared about my needs. Those people would keep coming and asking me for things, and the anxiety fills me up even when I type this now.
Stop being a people-pleaser.
_______________________________________________________________________________________________________________________
'Deixe o mundo ver a sua verdade.'
Sonhei com ele esta noite. Também sonhei com uma porta que eu estava tentando fechar, mas não consegui. Esta porta batia sempre aberta, e eu estava tentando fechá-la, trancá-la, colocar coisas na frente desta porta para mantê-la fechada e sempre que eu me virava, a porta batia aberta. Era tão vívido, o som dela, a sensação de que ela se abria atrás de mim. Quando eu me virava, muitas pessoas que conheço, amigos, família, amantes etc. entravam na sala, sem serem convidados. Eu estava tão assustada e farta, e simplesmente queria ficar sozinho, mas ninguém se importava com minhas necessidades. Essas pessoas continuavam vindo e me pedindo coisas, e a ansiedade me enche mesmo agora quando eu digito isso.
Pare de querer agradar a todos.
06 September 2020
London, England
'You gotta know who you are and deliver it at all times.'
#RuPaul, I love you. Thank you for constantly, constantly saving my life.
Remeber about little Sabrina drawing and just let it flow.
Don't try to control anything.
Let the rivers flow.
Don't ever let your insecurities come in between you and your dreams.
I used to be a controlling child. I used to want to control my sisters when they were having fun at the swimming pool. I remember being afraid they would drown. I guess, as far as I can remember, I always had abandoment issues and the fear I would lose the people that I love you. I was so afraid of losing them that I tried to control everyone in order to avoid this to happen. I was a stressed, anxious and scared child.
I am in the process of becoming a calm adult.
_______________________________________________________________________________________________________________________
'Você tem que saber quem você é e se jogar o tempo todo.'
#RuPaul, eu te amo. Obrigado por salvar minha vida constantemente, constantemente.
Lembrem-se da Sabrina pequenininha desenhando e somente deixe fluir.
Não tente controlar nada.
Deixe os rios fluirem.
Nunca deixe que suas inseguranças se interponham entre você e seus sonhos.
Eu costumava ser uma criança controladora. Eu costumava querer controlar minhas irmãs quando elas estavam se divertindo na piscina. Eu me lembro de ter medo que elas se afogassem. Acho que até onde me lembro, sempre tive ferida de abandono e o medo de perder as pessoas que eu amo. Tive tanto medo de perdê-las que tentei controlar a todos para evitar que isso acontecesse. Eu era uma criança estressada, ansiosa e assustada.
Estou no processo de me tornar um adulto calmo.
03 September 2020
London, England
'Find a connection with the experience of the moment.'
Do not get comfortable in discomfort.
What other people think about me is not of my damn business. I don't have time to waste shaping other's perception of me.
It was all worthy. Even the pain. Including the pain.
'Walk into your own beauty.'
You don't need someone to love you so that you can love yourself.
_______________________________________________________________________________________________________________________
'Encontre uma ligação com a experiência do momento'.
Não se sinta à vontade no desconforto.
O que as outras pessoas pensam de mim não é da minha conta. Eu não tenho tempo para perder para moldar a percepção que os outros têm de mim.
Tudo isto foi válido. Até mesmo a dor. Incluindo a dor.
'Caminhe para a sua própria beleza'.
Você não precisa de alguém que o ame para que você possa amar a si mesmo.
19 August 2020
London, England
I emailed Goldsmiths and declined my Masters. What a relief. It simply feels fucking amazing.
I like to swear. FUCK YOU!
_______________________________________________________________________________________________________________________
Enviei um e-mail a Goldsmiths e recusei os meus Mestrado. Que alívio. É simplesmente maravilhoso.
Eu gosto de xingar. FODA-SE!
17 August 2020
London, England
I made a profile in Workaway. :)
_______________________________________________________________________________________________________________________
Fiz um perfil em Workaway :)
14 August 2020
London, England
This is one of the most important days of my life. You can't see it now, but soon you will.
_______________________________________________________________________________________________________________________
Este é um dos dias mais importantes da minha vida. Não se pode vê-lo agora, mas em breve verá.